Eminem rips into Trump at BET Hip Hop Awards (VIDEO)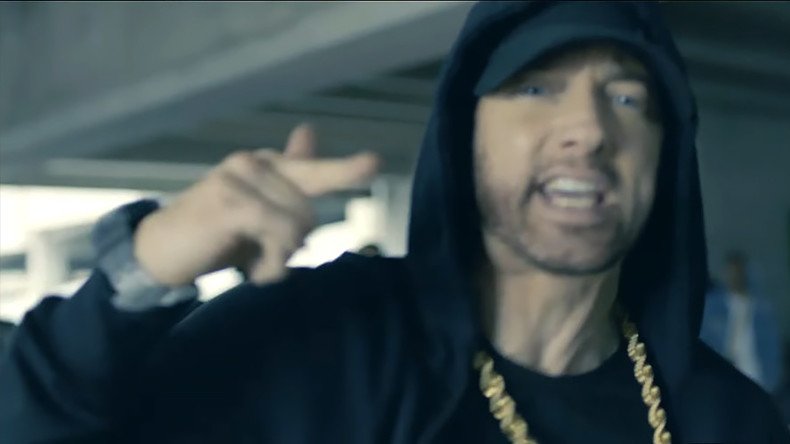 Rap artist Marshall Mathers, better known as Eminem, went after President Donald Trump, calling him a "kamikaze that will probably cause a nuclear holocaust" among other things in a freestyle rap cypher at the 2017 BET Hip Hop Awards.
In the four-minute acapella rap Tuesday night, Eminem insulted Trump for his tweets, his response to Puerto Rico and the attention he gives to the NFL, and much more.
Eminem even went after Trump supporters and said they would have to make a choice between him or the president.
"Any fan of mine who's a supporter of his, I'm drawing in the sand a line — you're either for or against. And if you can't decide who you like more and you're split on who you should stand beside, I'll do it for you with this: f*** you," Eminem fumed.
Colin Kaepernick, the former quarterback for the San Francisco 49ers, who's also famous for being the first NFL player to kneel during the national anthem, simply thanked Eminem for his words of support.
Fellow rapper Snoop Dogg, who has had a mixed relationship with Trump over the years, commended Eminem with some colorful language Tuesday night.
Eminem scored a lot of points with those on the political left, but not everyone was blown away by his cypher.
Eminem's outrage didn't impress journalist Max Blumenthal, who essentially sighed at the rapper's mainstream liberal politics.
Comedian Heather Anne Campbell did compliment Eminem on a "good job," but not before noting that he himself has spent years "saying inflammatory things," only to be upset with Trump for doing the same thing.
Eminem is no stranger to making political statements through rap, having lambasted former US President George W Bush and, significantly, Trump rival Hillary Clinton in the past. On his 1999 album 'The Slim Shady LP' his track 'Role Model' boasted the lyrics, "Hillary Clinton tried to slap me and call me a pervert/ I ripped her f***ing tonsils out and fed her sherbet."
You can share this story on social media: