US test fires SM-6 interceptor, practices 'smart defense' with allies off Scotland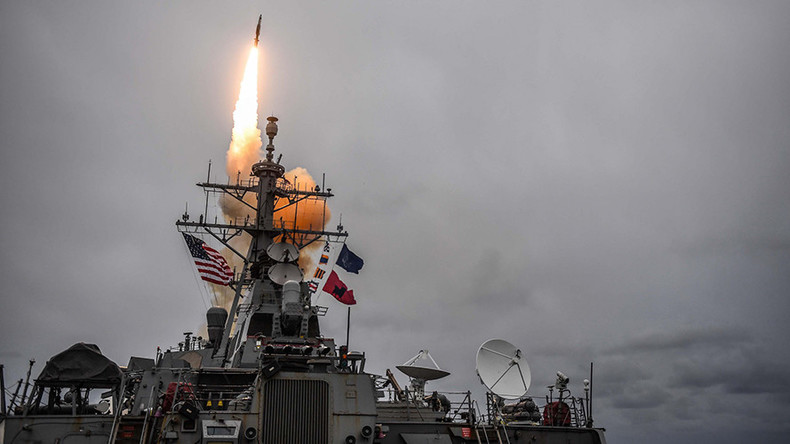 The US has test-fired one of its most advanced missile interceptors, the Standard Missile-6, off the Scottish coast. It comes amid the Formidable Shield drills conducted in the region to defend against the potential ballistic threat from "rogue states."
"US Navy sailors aboard USS 'McFaul' (DDG 74) successfully test fired a Standard Missile-6 (SM-6)," the Sixth Fleet said in a statement, stressing that the test was not part of the Formidable Shield drills.
The test supervised by the US Missile Defense Agency "demonstrated the successful performance of an SM-6 launched from an Aegis Ballistic Missile Defense capable DDG and was conducted as part of the system's flight certification process," the statement added.
Raytheon's SM-6 missile is designed to intercept ballistic projectiles descending towards targets from the upper atmosphere at extreme speeds. It can be deployed at land-based Aegis Ashore launching installations or at Aegis-equipped warships. According to the manufacturer, it is the "only missile" which can be used in anti-air and anti-surface warfare, while maintaining its use for "sea-based terminal ballistic missile defense."
That means the missile could be used to counter the rising threat from the North Korean nuclear and missile programs, as Pyongyang continues to rapidly advance its ballistic missile technology.
Sunday's test was conducted following the latest stage of the Formidable Shield drills, where the US and its allies practiced "live-fire integrated air and missile defense (IAMD) scenario" which focused on defending against a "ballistic missile target as well as three anti-ship cruise missiles."
Approximately 3,300 servicemen from Belgium, Canada, Denmark, France, Germany, Italy, the Netherlands, Spain and the UK are participating in the US-led drills on the Western Isles of Scotland.
More than 14 ships and 10 aircraft are also taken part in the drills.
During Sunday's session of the ongoing naval maneuvering, the US Navy boasted about demonstrating what it called a "smart defense" concept, where naval vessels served as "air defense units protecting naval ballistic missile defense units."
Part of the exercise involved USS 'Donald Cook' successfully detecting, tracking and intercepting a medium-range ballistic missile target using the Standard Missile-3 Block IB guided missile.
While the US Arleigh Burke-class guided-missile destroyer was busy intercepting its target, Spanish frigate fired an Evolved SeaSparrow Missile (ESSM) against an incoming anti-ship cruise missile.
Simultaneously, a Dutch frigate fired ESSMs against a pair of incoming anti-ship cruise missiles, the US Navy said.
"Both the joint exercise and the Navy test launch truly demonstrate the capabilities the US and our allies are developing to defeat complex, cruise and ballistic missile threats," said US Missile Defense Agency Director Lt. Gen. Sam Greaves.
"The exercise scenarios are designed to test our limits and give us a unique opportunity to truly practice how we would fight together as an alliance," added Capt. Shanti Sethi, commander, Task Group IAMD for Formidable Shield.
Formidable Shield 2017 began September 24, and is scheduled to conclude October 18. At the start of the US-led Formidable Shield exercise, London made it clear that NATO and its allies are perfecting their means of tackling the North Korean threat.
"North Korean tests have shown the danger of rogue states developing longer-range missiles. By hosting this cutting-edge exercise in anti-missile defense with allied navies Britain is at the forefront of developing a more effective response to this growing threat," UK Defence Secretary Michael Fallon said on September 24.
North Korea conducted its sixth nuclear test on September 3, forcing the UN Security Council to introduce new sanctions. The UN actions, however, did not stop Pyongyang from launching a series of ballistic missiles later in September, while vowing to destroy the US and its allies with nuclear weapons if attacked.
With Pyongyang and Washington whipping up tensions, Moscow and Beijing have repeatedly called on both parties to remain calm. Russia and China have called for the implementation of the so-called "double freeze" initiative that envisages North Korea suspending its nuclear and missile program in exchange for the US and South Korea abandoning their military exercises in the region. The initiative has been rejected by Washington.
You can share this story on social media: