17th in a row: US Navy unveils newest Tomahawk-capable Virginia-class nuclear sub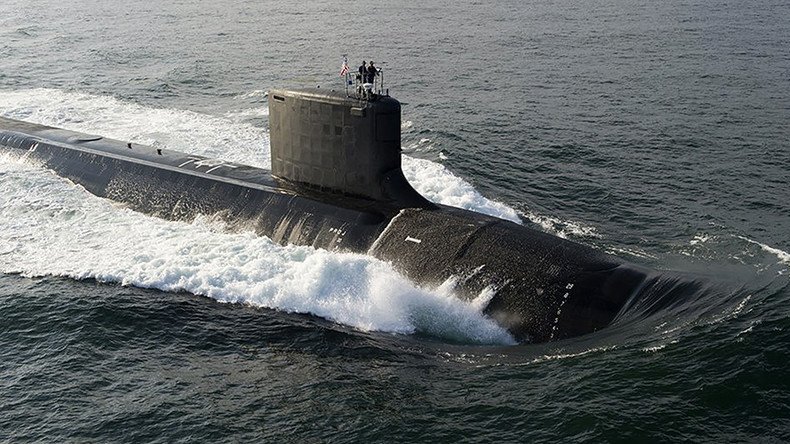 The US Navy has just commissioned its newest Virginia-class nuclear attack submarine at a General Dynamics shipyard in Groton, Connecticut. Six more subs are under construction as part of a giant 28-vessel deal.
The USS South Dakota, a Virginia-class nuclear attack submarine, was officially unveiled on Saturday at Groton shipyard in Connecticut, where it was christened by Deanie Dempsey, wife of Chairman of the Joint Chiefs of Staff General Martin Dempsey, local media reported.
READ MORE: Run silent, run scared? US Navy alarmed by 'effective, advanced' Russian subs
Construction began in 2013, and her keel was laid in April 2016, according to the submarine's website. Construction works were carried out by General Dynamics Electric Boat (GDEB).
The submarine, which accommodates a crew of about 130 sailors, is the 17th Virginia-class attack submarine and seventh Virginia-class Block III submarine.
An honor to attend the christening ceremony for the USS South Dakota today. It will play important role in nat'l security for decades. pic.twitter.com/Gfb2smX2gZ

— Senator Mike Rounds (@SenatorRounds) October 14, 2017
Block III Virginia-class submarines feature a redesigned bow, which replaces 12 individual launch tubes with two large-diameter Virginia Payload Tubes (VPL), each capable of launching six Tomahawk cruise missiles, according to the US Navy.
Virginia-class submarines are built to operate in shallow and open-ocean waters, conduct anti-submarine and anti-surface ship warfare, support special operations, collect intelligence, surveillance and reconnaissance, and lay mines.
The US Navy boasts that "their inherent stealth, endurance, mobility and firepower directly enable them to support five of the six maritime strategy core capabilities – sea control, power projection, forward presence, maritime security and deterrence."
The US military-industrial complex has recently ramped up its submarine building, with the workforce of General Dynamics Electric Boat growing to around 16,000 people, while modernizing its shipyards.
In recent years, top Pentagon officials have claimed the US is failing to keep pace with near-peer opponents like Russia or China in terms of submarine deployments. Last year, Admiral Mark Ferguson, commander of US Naval Forces in Europe, told CNN the Navy is facing better and more numerous Russian submarines capable of taking out aircraft carrier groups.
READ MORE: US nuke sub arrives in South Korean port amid tensions on peninsula
"The submarines that we're seeing are much more stealthy," Ferguson said. "We're seeing [the Russians] have more advanced weapons systems, missile systems that can attack land at long ranges, and we also see their operating proficiency is getting better as they range farther from home waters."
US Navy top brass have been lobbying to pour money into shipbuilding due to the perceived threat from Russia, which Vice Admiral James Foggo III, commander of the US 6th Fleet, believes is "rapidly closing the technological gap."
"Russian submarines are prowling the Atlantic, testing our defenses, confronting our command of the seas, and preparing the complex underwater battlespace to give them an edge in any future conflict," Foggo wrote in a June article for the US Naval Institute's Proceedings magazine.


You can share this story on social media: