Guantanamo death penalty case in limbo after defense lawyer mysteriously quits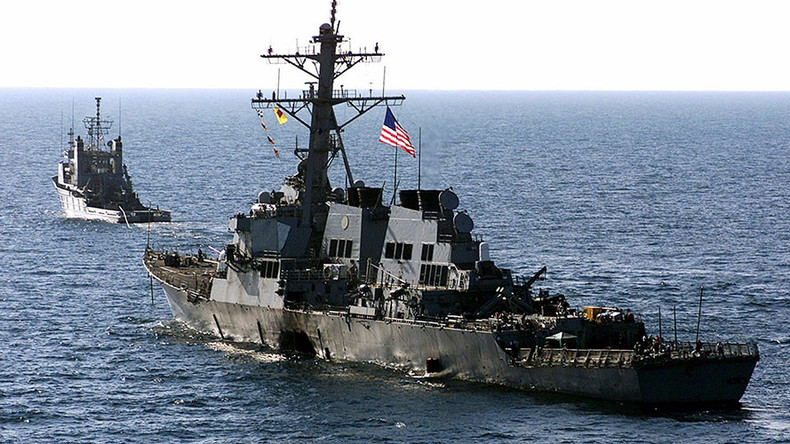 The key defense attorney of the man alleged to be behind the USS 'Cole' bombing has quit, citing an ethical conflict which he's not allowed to reveal. The suspect, Abd al Rahim al Nashiri, is in detention at the US Guantanamo military base.
Death-penalty counsel Rick Kammen, along with two members of his legal team, quit Friday, saying that they cannot disclose the reason because it is classified.
Nashiri, 52, is accused of orchestrating Al-Qaeda's suicide bombing of the US warship off the coast of Yemen on October 12, 2000, which killed 17 American sailors.
"We have mixed emotions about this," Kammen said in a statement Friday afternoon. "We are angry about being placed in an ethically untenable position, disappointed in not being able to see the case through, and devastated to leave Mr. Nashiri, whom we genuinely like and who deserves a real chance for justice."
By law, a capital trial cannot go forward without a seasoned death-penalty counsel, which will likely cause a delay in what was on track to be the first death-penalty trial held at America's Guantanamo prison in Cuba.
The attorneys withdrew on the belief that the government was listening in on their legal meetings, creating an ethical conflict, McClatchy reported.
"We're in a position where we cannot meet with our client, and we cannot tell him why we can't meet with him," Kammen said, referring to an order by a military judge. "That's an ethically untenable position to be in," he added.
Nashiri's Pentagon lawyers filed a complaint at the US Supreme Court over the case.
Throughout nearly six years of pretrial hearings at the military court, the government and Nashiri's civilian defense attorneys had been litigating over what evidence Nashiri or his lawyers can see, how to substitute for destroyed CIA evidence, and how much damage Nashiri suffered while in CIA custody from 2002 to 2006.
Unclassified documents show he was waterboarded, abused rectally, confined to a coffin-sized box and subjected to other "enhanced interrogation techniques" to break him during interrogation, McClatchy reported.
The Saudi national is one of 41 captives who remain at Guantanamo.
Following the September 11 terrorist attacks, the US had detained around 800 individuals suspected of ties to Al-Qaeda, but instead of trying them at US courts, held the suspects for years without trial at Guantanamo. Most inmates were subsequently cleared for release. The UN ruled that the practices at Guantánamo, including arbitrary detention without trial, blatantly violated international law.
President Donald Trump has vowed to keep the infamous prison open and "load it up with some bad dudes."However, no detainees have been transferred in or out since he took office.