Kelly slams media as 'only frustration', but keeps reporters laughing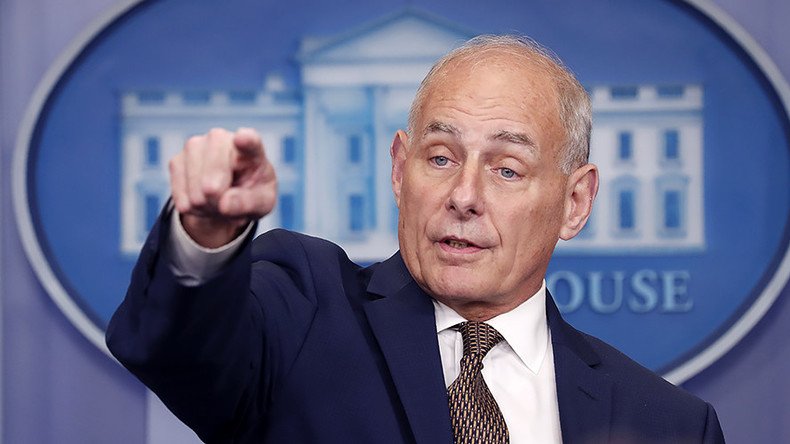 White House Chief of Staff John Kelly, in a surprise appearance at a White House press briefing, kept reporters laughing with remarks that sounded close to President Donald Trump's style of handling the media.
"Although I read it all the time pretty consistently, I'm not quitting today," Kelly said at Thursday's White House press briefing. "I don't think I'm being fired today. And I'm not so frustrated in this job that I'm thinking of leaving."
Kelly, a retired four-star Marine general, called his position at the White House "the hardest job" he's ever had, adding that it is also "the most important" he's ever had.
Read More: Trump nominates Kelly aide as new Homeland Security chief
On Wednesday, Vanity Fair reported that Kelly was "miserable in his job and is remaining out of a sense of duty to keep Trump from making some sort of disastrous decision."
An earlier report from Vanity Fair also said that Trump and Kelly were "fighting a lot" and their relationship had deteriorated to a point that it was "irreparable."
After the report, President Donald Trump tweeted that the story was "totally made up by the dishonest media," adding that Kelly was "doing a FANTASTIC job for me and, more importantly, for the USA!"
On Thursday, Kelly reiterated Trump's statements, saying that his "only frustration" with his job came from false reports on internal conflicts in the White House.
"My only frustration, with all due respect to everyone in the room, is when I come to work in the morning and read about things I allegedly said, or things that Mr. Trump allegedly said, or people who are going to be fired, or whatever you all think. And it's just not true," Kelly said. "That's my frustration. And I mean no disrespect to you all."
Amy Siskind, president of The New Agenda, called Kelly "a grown-up," and called the announcement that he was not fired "our everyday manufactured crises."
Gregory Korte, the White House correspondent for USA Today, challenged Kelly's criticism of the media relying on off-the-record sources, saying that Kelly himself gave three off-the-record interviews with reporters in the past.
You can share this story on social media: