Baltimore surpasses New York, Chicago as murder capital with 278 homicides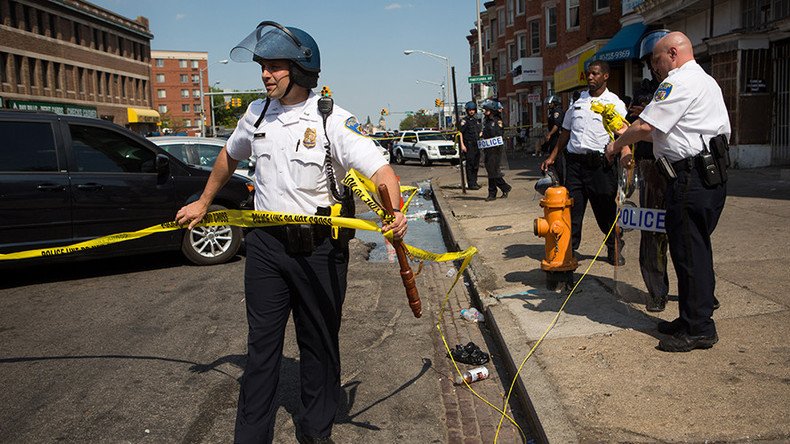 The Baltimore Police Department has announced the deaths of three men shot in two separate incidents, pushing the city's homicide count to 278 so far this year ‒ ahead of New York in terms of total murders, and Chicago in murders per capita.
Of the last 100 homicides, the majority were shooting deaths. The highest numbers of deaths were for black males in their 20s, 30s and 40s, with 41, 22 and 16 homicides respectively, according to data compiled by the Baltimore Sun. All generations were hit, however – from teenagers as young as 15 to the elderly at 97 years old.
Overall homicides were up 16 percent over last year as of October 7, according to the data, and it is on pace for its deadliest year on record, on a per-capita basis and in total homicides. Baltimore's current population is just over 621,000.
The city's worst year on record for homicides was 1993, when there were 353 incidents. However, the city that served as the setting for 'The Wire' had about 100,000 more residents at the time.
When compared to other US cities with dense urban populations, Baltimore has more homicides per capita than Chicago. While Chicago recorded 500 homicides by September, according to the Chicago Tribune, it has a population of 9.5 million.
Baltimore also has more total homicides this year than New York City. New York Police Department Comstat data for October showed 101 murders among its 8.5 million population.
In August, community leaders called for a 72-hour ceasefire in the city hoping to stem the tide of homicides between August 11-13. The ceasefire was also known as the "Nobody kill anybody" weekend.
During that period, police confirmed three men had been shot, two of whom died from their injuries. Nevertheless, one of the lead organizers of the ceasefire was encouraged.
"Forty-one hours of peace in a city that loses people every seven hours is huge," said Erricka Bridgeford – who grew upon the streets of Baltimore, and witnessed her first homicide at the age of 12 – told Agence France Presse.
In September, Mayor Catherine Pugh released a comprehensive plan to reduce violence in Baltimore.
The city is to reform the Baltimore Police Department to include proper staffing, better training and supervision and modernization. That translates to hiring more staff, with applicants up 27 percent this year and 144 officers hired. During the year 100 officers were shifted to street patrol from administrative duties. There are still 100 police officer vacancies to fill.
The city has started to work with local service providers and community organizations to deliver career counseling, education, housing, health and conflict mediation and mentoring. There is an emphasis on involving the community to be part of the solution, and a call for another ceasefire event and to start safety walks in people's neighborhoods.
You can share this story on social media: