Baltimore's 'Nobody kill anybody' ceasefire marred by 2 homicides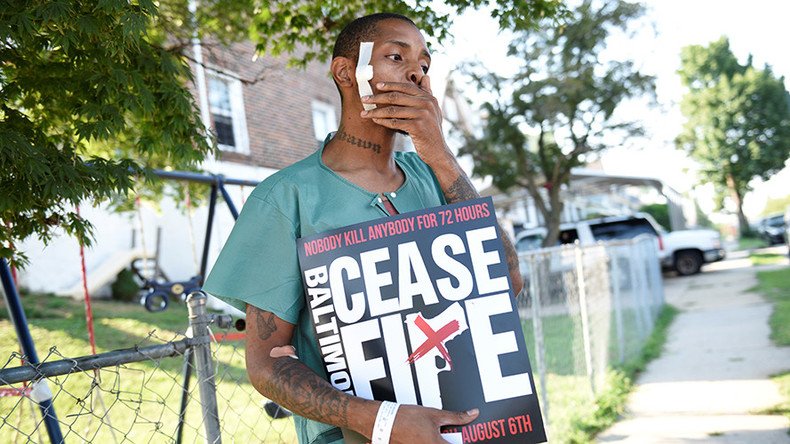 An inaugural event to curb murders in one of America's most violent cities was interrupted by the killings of two men on Saturday, though organisers insist that the 'Baltimore ceasefire' has not ended.
Community leaders had called for a 72-hour ceasefire in the crime ravaged Maryland city, hoping to stem the tide of murder for three days from Friday to Sunday. However, police confirmed on Saturday that three men had been shot, two of which died from their injuries.
The unnamed victims, 37 and 24, were both murdered on Saturday in separate incidents in a city which recorded a staggering 207 murders for the first seven months of 2017.
The ceasefire, also known as the 'Nobody kill anybody' weekend, is the brainchild of Erricka Bridgeford, a woman who witnessed her first murder on the streets of Baltimore when she was 12.
Both Bridgeford's brother and step-son were victims of murder in her hometown.
"We have created a system where you arrest and punish people, but you do not heal the traumas that you caused," Bridgeford said in an interview with RT. "America has a system that only believes that you can lock away problems and so that strategy does not really work. People need to be healed from inside out and locking them up does not do that."
Despite the double homicide, Bridgeford insists that the ceasefire has not ended.
The past two years have set records for homicides in Baltimore, with 318 recorded in 2016 and 344 in 2015. Yet the 200 mark was recorded on August 10 in 2015, and September 2 in 2016, putting this year on pace to surpass both records if the killing continues.
You can share this story on social media: