17 dead as wildfires rage in Northern California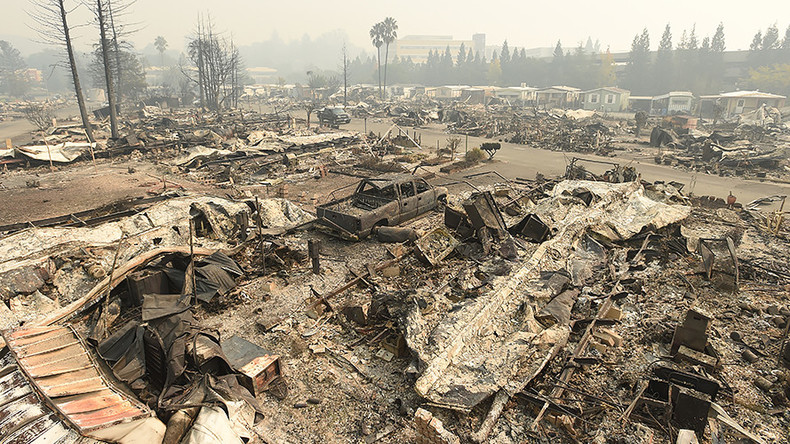 Wildfires in Northern California have claimed 17 lives, with officials warning that the number could rise. Mass evacuations are underway as an estimated 17 blazes have damaged or destroyed more than 1,500 structures, including homes.
On Tuesday, over 15,000 acres of land and wine country in over eight Northern California counties were engulfed by the flames of the combining fires. Some of the 20,000 residents fled on foot as the infernos tore through their towns. Over 100 people were taken to hospitals by Tuesday morning, according to authorities, the New York Times reported.
Sonoma County, which administers the Pacific coast to the west of Napa County, has received over 200 missing persons reports. Sonoma County spokeswoman Maggie Fleming said the reports came through calls to a hotline, as people scrambled to locate family members and friends during the devastating fires, the San Francisco Chronicle reported.
Fleming said that it's possible most of the reports have been filed for people who are safe, but who can't be reached due to the widespread loss of cell phone services and other communication outages.
Vice President Mike Pence said Tuesday that President Donald Trump has approved a "major disaster declaration" for the state of California. Pence made the announcement during a visit to the Golden State's Emergency Management Headquarters, the Los Angeles Times reported.
As of 7am on Tuesday, the two largest blazes in the region, the Tubbs and Atlas Peak fires in Napa County, had burned 27,000 and 25,000 acres respectively, according to assistant deputy director for Cal Fire Daniel Berlant. He told reporters that both of the outbreaks were uncontained.
The Atlas Peak fire even spread across the hills east of Napa during the night, and set off a chain of more blazes to the west, Cal Fire incident commander Kevin Lawson said Tuesday morning.
The Atlas fire is currently moving east from Napa into Solano County, and threatening people living in Green Valley. And another threat in the southwest of Napa, the Patrick fire, had been heading toward heavily-populated areas Tuesday.
But as of Tuesday morning, red flag warnings in effect throughout most of Northern California, had been lifted.
"Overnight, the wind that had fanned these fires had really decreased, and that gave us an opportunity to really take a stand against these fires," Berlant said, the LA Times reported. "We are again today hoping to see very little wind compared to Sunday."
"Though our containment numbers haven't gone up just yet, we've at least been able to hold these fires and keep them at their current acreage," Berlant added.
The smaller outbreaks did actually have some containment as of Monday night. The 2,500-acre Sulphur fire in Lake County was 10 percent contained, while the 2,000-acre fire off Highway 37 in Sonoma County was 15 percent contained.
READ MORE: Brushfire spreading in S. California prompts evacuations
Firefighters hope that winds will eventually weaken enough Tuesday to allow emergency personnel to get a handle on the ravaging fires.
Trump contacted California Governor Jerry Brown on Monday night to offer federal government support for the fire ravaged state.
"We will be there for you in this time of terrible tragedy and need," he said, according to Mercury News. "I just want to pay my warmest respects. They're going through a lot."
Northern California is not the only region in the state dealing with the threat of wildfires.
A brush fire in Southern California's Orange County, dubbed the Canyon Fire 2, has spread over 6,000 acres and into the county's affluent Anaheim Hills neighborhood. The flames are still pushing thick smoke over the area and destroying people's homes, according to KABC.
Around 1,000 people living in homes in the towns of Anaheim Hills, Orange, Orange Park Acres and Tustin have been cleared. The wildfires have also led to freeway closures in that area.