'I talk sh*t because I can': Man hit with soup for explosive racist rant on New York subway (VIDEO)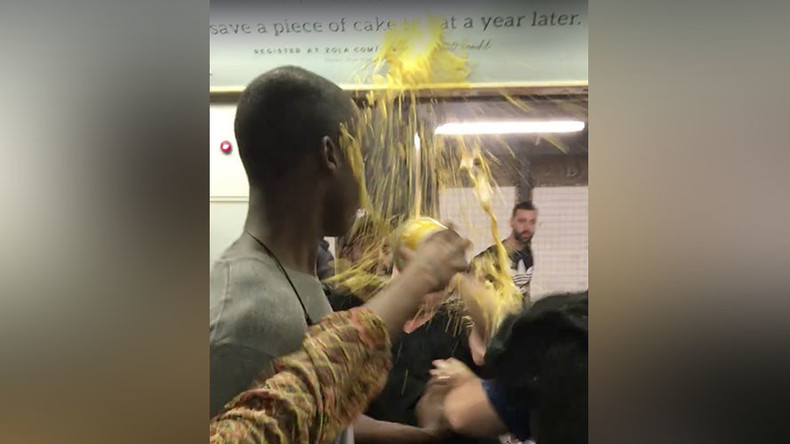 A man was doused with soup and pushed to the ground after drunkenly berating his fellow passengers and screaming racial slurs on a New York Subway train.
The incident took place on the L train to Brooklyn Saturday afternoon. Joshua Pyne, who was also travelling on the train, caught footage of the incident on his phone and posted it to Facebook.
"I talk s–t because I know I can," the man shouted. "I'm a lawyer. I went to NYU law."
The man openly drank from a can of Lime-A-Rita, an alcoholic beverage, as he carried out a racially charged rant while citing the first amendment.
"First amendment, first amendment, n****r, n****r, n****r, n****r, n****r, n****r, n****r, n****r," he said.
WARNING: This video contains extremely offensive language.
Other riders on the train turned on the man and shoved him off the train. He attempted to rush back on but was forced back off again while one passenger threw soup on him and another kicked him.
"Get your hate speech out of here," a passengers can be heard shouting in the video.
Pyne described the seemingly drunken man as a "typical weekend-straphanger [Subway passenger]."
READ MORE: Woman beats up train passenger in California over alleged racist abuse (GRAPHIC VIDEO)
The end of the incident wasn't caught on video, but Pyne told the New York Post that a police officer arrived on the scene and the man started arguing with him.
"Everyone on the car felt pretty demoralized," Pyne added.