Trump's deal-making ways undercut US continuity ‒ Forbes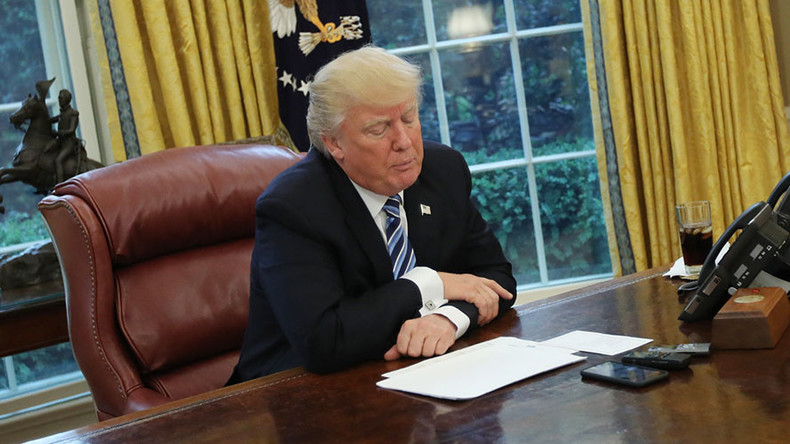 US President Donald Trump is governing the way he ran his business, negotiating deals and denigrating opposition in a way that undermines the continuity of American politics, according to a new interview.
Asked by Forbes magazine whether he feels a responsibility to honor agreements from previous administrations such as the nuclear deal with Iran, the Paris climate pact, or free-trade deals, Trump answered with a quick "No."
"It's a dangerous precedent: an America where each administration, rather than building on the agreements of its predecessors, undoes each other's deals ‒ effectively undermining the authority of any American head of state. Again, Trump shrugs," Forbes wrote.
Trump has repeatedly promised to terminate NAFTA, the free trade agreement between the US, Mexico and Canada.
"I happen to think that NAFTA will have to be terminated if we're going to make it good. Otherwise, I believe you can't negotiate a good deal," he said in the interview.
Trump said he considers his scrapping of the Trans-Pacific Partnership international trade deal "a great accomplishment."
"I like bilateral deals," he said. "You can have it this way and do much more business. And if it doesn't work out with a country, you give them a 30-day notice, and you either renegotiate or not."
Trump revealed that he is working on a 'carrot and stick' legislation for US companies to get them to keep jobs in the United States. Those that do will get rewarded, while those that send operations offshore will "get penalized severely," he explained in the interview.
"It's both a carrot and a stick," the president said. "It is an incentive to stay. But it is perhaps even more so ‒ if you leave, it's going to be very tough for you to think that you're going to be able to sell your product back into our country."
The initiative is in keeping with Trump's campaign promise to make it less lucrative for American companies to take operations overseas as they seek to cut costs on labor, and then sell their products to US consumers.
The president has yet to get Congress to approve some of his other key campaign pledges ‒ like repealing the Obama-era Affordable Care Act and passing tax cuts. A number of Republicans, including Senator John McCain (R-Arizona), have blocked attempts to repeal the so-called Obamacare.
"Since Congress can't get its act together on HealthCare, I will be using the power of the pen to give great HealthCare to many people ‒ FAST"Trump tweeted Tuesday, referring to his plan to sign an executive order to allow health insurance to be purchased across state lines, which would presumably drive down costs.
Trump has been accused of alienating members of his own party, as he repeatedly blasted them on twitter and elsewhere. That is part of Trump's tactic, Forbes concluded quoting the president's Art of the Deal: "I'm the first to admit that I am very competitive and that I'll do nearly anything within legal bounds to win. Sometimes, part of making a deal is denigrating your competition."