Dr Seuss 'racist'? Museum vows to remove mural by celebrated author amid 'PC gone mad' cries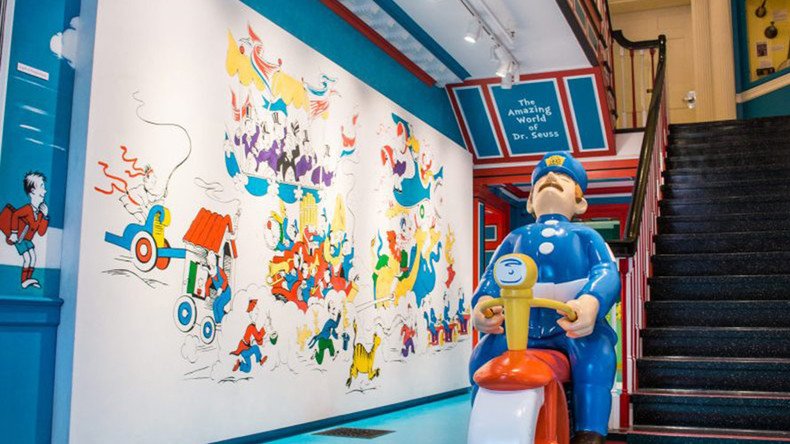 A Boston museum honoring the popular children's author Dr Seuss has become embroiled in a race row over a mural depicting a "jarring stereotype" of a Chinese man.
The Dr Seuss Museum in Springfield, Massachusetts has agreed to remove the offending image but has now been criticized for kowtowing to political correctness. The illustration in question was taken from Dr Seuss' first book, 'And to think that I saw it on Mulberry Street,' from 1937.
Author and illustrator Mo Willems announced Friday that he and two other authors, Lisa Yee and Mike Curato, would boycott an event at the museum on October 14 citing the depiction of a "jarring racial stereotype of a Chinese man who is depicted with chopsticks, a pointed hat and slanted slit eyes."
"We find this caricature of 'the Chinaman' deeply hurtful and have concerns about children's exposure to it," the authors wrote in a joint statement published online. "While this image may have been considered amusing to some when it was published 80 years ago, it is obviously offensive in 2017."
"This is what Dr Seuss would have wanted us to do. His later books, such as The Sneetches and Horton Hears a Who, showed a great respect for fairness and diversity."
Andy Yee, a local businessman, offered to buy the mural if it is removed.
"That's my ancestors coming to this country in the 1930s. We did not come wearing Louis Vuitton and Gucci. Why do you want to change history?" Yee said, as cited by Mass Live.
Yet more criticism of the decision came from Springfield Mayor Domenic Sarno, who said: "We should not have acquiesced to these authors' demands. It's their choice – their prerogative not to be part of the event. Again, where do we draw the line? This is political correctness at its worst, and this is what is wrong with our country."
The row is yet another escalation in alleged racism surrounding the popular children's author. A Massachusetts librarian recently rejected a donation of children's books by Melania Trump, claiming that Dr Seuss was "racist."
Former First Lady Michelle Obama was even dragged into the racist argument retrospectively, after photos emerged of her reading a Dr. Seuss book to preschool children.
You can share this story on social media: