FBI report says 'black-identity extremists' seeking retaliation for police shootings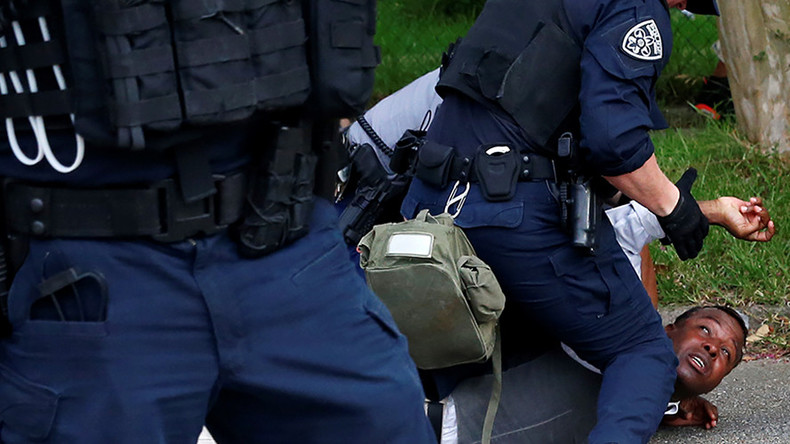 Controversial police shootings of African-Americans and an apparent lack of justice are causing "black-identity extremists" to target white officers, a declassified FBI report says. Critics argue the term is racially biased.
The term 'black-identity extremists,' used in the report, refers to both individuals and a loosely defined movement seeking to establish "wholly or in part, through unlawful acts of force or violence, in response to perceived racism and injustice in American society," a separate black homeland or autonomous black social institutions or governing groups within the United States.
Marked 'for official use only' (FOUO) and obtained by Foreign Policy (FP) magazine, the report says "it is very likely Black Identity Extremist [BIE] perceptions of police brutality against African-Americans spurred an increase in premeditated, retaliatory lethal violence against law enforcement."
Incidents involving "alleged police abuse" have "continued to feed the resurgence in ideologically motivated, violent criminal activity within the BIE movement," says the report composed by the FBI's Counterterrorism Division.
Violent extremists are driven by a "mix of anti-authoritarian, Moorish sovereign citizens ideology, and BIE ideology," the report claims, adding that "the FBI has high confidence in these assessments, based on a history of violent incidents" attributed to African-American perpetrators who acted because of their beliefs.
The FBI believes that perceptions of police brutality against African-Americans have been driving BIE followers since 2014, when Michael Brown was shot dead by officers in Ferguson, Missouri, causing outrage in the black community.
The report notes that on July 7, 2016, Micah Johnson – a Mississippi-born, Texas-raised black man outraged by police shootings of black individuals – ambushed and shot eleven officers in downtown Dallas, Texas before being shot dead by police. The five officers that died in the shooting were white, it adds.
The term 'black identity extremism' does not appear to have surfaced anywhere until early August – when the FBI report was compiled.
Google "Black Identity Extremists". Report back with what you find. Let's talk.

— fancy black jawn (@ohmyKia) October 6, 2017
READ MORE:'Black Lives Matter uses issue of police violence to achieve bigger agenda'
However, its authors argue that "BIE violence" was on the rise in the 1960s and 1970s "in response to changing socioeconomic attitudes and treatment of blacks." It added that today, black extremists are posing "a violent threat to law enforcement," spreading "violent anti-white rhetoric" and attempting "to acquire illegal weapons or explosives."
Former government officials and lawyers interviewed by FP and other media following the revelation voiced skepticism that such a movement actually exists.
I train law enforcement intelligence in counterterrorism all over nation & "Black Identity Extremism" doesn't exist. It's a made up term. https://t.co/XIwT44Teey

— Malcolm Nance (@MalcolmNance) October 7, 2017
The US government has always framed black people who do not wish to be enslaved, tortured, discriminated or killed as "identity extremists".

— Professor Fleming (@alwaystheself) October 6, 2017
A former senior counterterrorism and intelligence official from the Department of Homeland Security who has seen the document told FP he was shocked by the report's wording.
"This is a new umbrella designation that has no basis," the former official said. "There are civil rights and privacy issues all over this."
"They are grouping together Black Panthers, black nationalists, and Washitaw Nation," the former official added. "Imagine lumping together white nationals, white supremacists, militias, neo-Nazis, and calling it 'white identity extremists.'"
DeRay McKesson, an activist with the Black Lives Matter movement, said "there is a long tradition of the FBI targeting black activists and this is not surprising."
Last year, FBI Director James Comey said a lack of reliable data about how often police use force contributed to a narrative that "biased police are killing black men at epidemic rates."
"It is a narrative driven by video images of real and gut-wrenching misconduct, by images of possible misconduct, by images of perceived misconduct," Comey claimed at a conference of international chiefs of police.
You can share this story on social media: