'We just need guns': ISIS sympathizers targeted Times Square, unsealed terrorism charges say
Published time: 7 Oct, 2017 03:26
Edited time: 7 Oct, 2017 16:31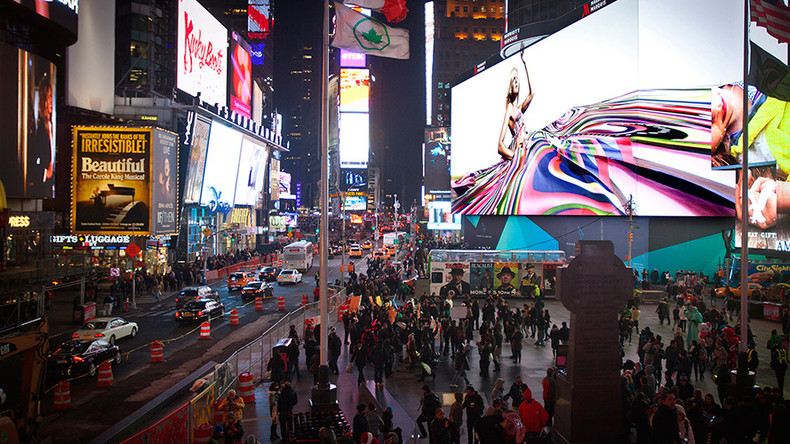 The FBI says three men living outside of the US, including one American, planned to attack crowded subways, concerts and Times Square in New York City. One of the men even went as far as to say he wanted to "create the next 9/11."
Abdulrahman El Bahnasawy, 19, a Canadian citizen, Talha Haroon,19, a US citizen based in Pakistan, and Russell Salic, 37, a Filipino citizen, purportedly used chat-based apps to discuss detonating a car bomb in Times Square in 2016, the FBI stated Friday in a press release.
The men also allegedly talked about shooting people in the subway before detonating vests and opening fire on concertgoers in a style similar to the Paris attacks in 2015, according to the press release.
"NY needs to fall. This is a must," Hasoon purportedly wrote in a message to an undercover agent masquerading as an Islamic State (IS, formerly ISIS/ISIL) sympathizer. The US Department of Justice said the investigation into the three suspects did not begin as a sting operation.
El Bahnasawy was arrested in New Jersey in May 2016, Haroon was arrested in Pakistan in September 2016 and Salic was arrested in the Philippines in, or around April 2017. Only one man has pleaded guilty so far.
The plot was more aspirational than operational, FBI and NYPD officials told NBC News. However, according to the indictments, El Bahnasawy and Haroon talked about hitting four specific subway lines and Times Square, while saying they were ideal targets.
Prosecutors handling the case said that El Bahnasawy told the undercover agent he wanted to "shoot up concerts cuz they kill lots of people."
The man also researched upcoming concerts in New York City, while also stating he wanted to pick a show in "a concert hall that is far away from cops."
"We just need guns in our hands," El Bahnasawy said. "That's how the Paris guys did it."
Haroon also described his attack plans to the undercover agent, and said he thought the subway was a "perfect" target for the attack. He elaborated and said that the men should shoot as many train riders as possible before setting off their suicide vests.
"When we run out of bullets we let the vests go off," Haroon said.
El Bahnasawy bought bomb-making materials while in Canada, prosecutors added.
And Haroon purportedly met with an expert in explosives while in Pakistan, in order to receive more information on how to build bombs. During this period in time, the two men allegedly began talking with Salic, who was also known to them as "the doctor," about acquiring money to carry out the attack.
Salic, who kept a pro-IS presence on social media, allegedly wired $423 to the undercover agent to help pay for the attacks, which were set to take place on May 11, 2016. Salic also told the agent that he would send more money in the future.
Prosecutors said the agent sent Salic a picture of hydrogen peroxide El Bahnasawy had bought in order to carry out the killings. Salic then purportedly responded by stating that he may carry out the attacks on his own if he was not able to go to Syria to join IS. The man also allegedly wrote that "(I)t would be a great pleasure if we can slaughter" New Yorkers, the press release stated.
The announcement follows the worst mass murder in modern American history, after gunman Stephen Paddock opened fire on thousands of people from his 32nd floor Mandalay Bay hotel room, overlooking a country music festival in Las Vegas, Nevada on Sunday.
Paddock ended up killing 58 and injuring hundreds more before taking his own life. The investigation into the shooting and his motives is ongoing.