ISIS sleeper cell plotting 'high-profile' attacks in Russia foiled by FSB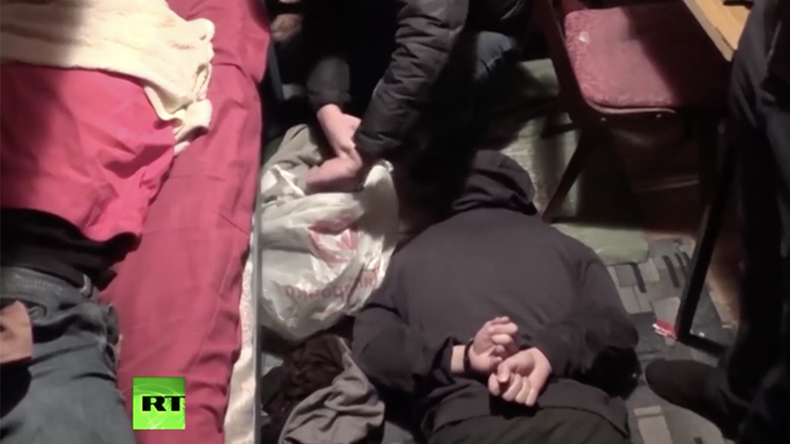 The Russian Federal Security Service (FSB) has detained "all members" of an Islamic State (IS, formerly ISIS/ISIL) terrorist sleeper cell in Moscow, suspected of plotting attacks on public places. Homemade explosive devices and other weapons have been seized.
"Following investigative activities conducted in the Moscow Region on September 30, 2017, the FSB has foiled illegal activity of a deeply clandestine cell of the IS international terrorist organization," the security service said in a statement Monday.
It was established that the cell members planned to carry out "high-profile" terrorist attacks in September, including blasts in crowded places and on the transport infrastructure, the FSB stated.
"All members" of the cell have been detained, the statement said, without elaborating on the exact numbers. Two powerful ready-to-use improvised explosive devices were found, along with Makarov pistols and hand grenades.
The cell was headed by "foreign emissaries," according to the FSB, who also revealed that Russian citizens were among its members. They acted under "increased conspiracy measures," the report said.
At least two suspects have been taken into custody, RIA Novosti reported Monday, citing sources at a Moscow court.
The detained suspects reportedly worked as night guards at a construction site of a residential compound in the north of Moscow, RIA Novosti previously reported, citing sources.
"They behaved quietly, tried not to draw attention. They left [the site] at 9am, came back at night, having been secretive and not communicating with anyone," a source said to be working at the same site told the news agency.
In late August, the FSB detained IS members who were planning to carry out attacks in public places in the Moscow Region on September 1, which is Knowledge Day in Russia, marking the beginning of the school year.
You can share this story on social media: