Event organizers across US tighten security after Vegas massacre
Published time: 6 Oct, 2017 21:50
Edited time: 7 Oct, 2017 16:30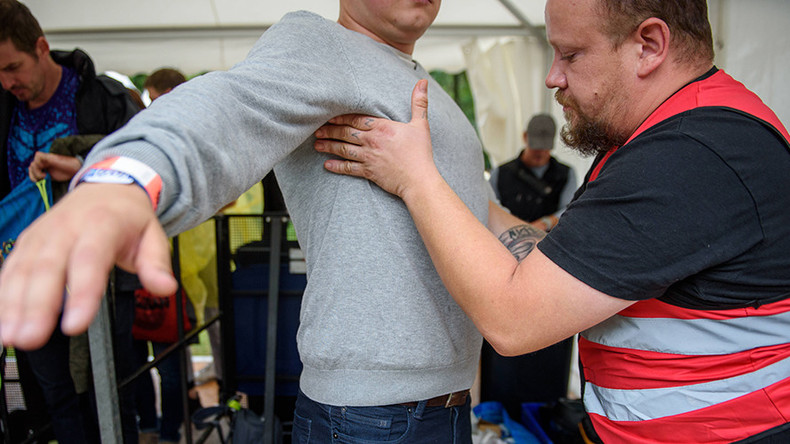 Organizers of public events from Boston to Pasadena have reviewed security measures, and are bracing themselves for mass ticket returns ahead of weekend events.
City Limits Festival, Austin, Texas
Austin City Limits began offering refunds on Tuesday for fans who didn't want to attend after the massacre in Las Vegas.
Austin police chief Brian Manley told Esquire the massacre in Las Vegas prompted his department to go back and review all of their security plans. He did not elaborate on the specifics, but said there would be visible and non-visible police throughout the area. They were also monitoring social media for any threats with regional intelligence centers. There was no indication that anyone was targeting large-scale events around the country.
The Austin City Limits Music Festival is two consecutive three-day weekends celebrating a variety of music styles that attracts 450,000 people each year.
Fenway Park, Boston, Massachusetts
The management of Fenway Park are increasing security measures ahead of the Red Sox baseball team's match against the Houston Astros this Sunday.
News reports said investigators had found that the Las Vegas shooter, Stephen Paddock, had looked into hotels and concerts playing Fenway Park in the months before the massacre.
"We are aware of the media reports," Red Sox spokeswoman Zineb Curran said Thursday, according to Boston Globe. "Where there is currently no credible threat to Fenway Park according to public safety agencies, the Red Sox have been working with city, state, and federal officials on increased security measures for postseason games at Fenway Park."
Chicago Marathon, Illinois
Chicago police officers are now conducting random checks for the Chicago marathon on Sunday. As many as 1.7 million spectators are expected to attend the Marathon, when 40,000 competitors will run the 26.2-mile route through city neighborhoods.
On Thursday, Mayor Rahm Emanuel said police had double- and triple-checked security measures after Las Vegas, as they did following the Boston attacks and terror incidents in Brussels and Paris. He said he's "100 percent" confident the events in the city are secure.
Police will deploy 1,000 more officers on Sunday at the Marathon than usual.
"It's going to be an open event, as it always is," Anthony Riccio, chief of the organized crime bureau at the Chicago Police Department, told the Chicago Tribune. "That said, we learn from every event, every tragedy we learn from, and we learned from Vegas as well."
"We're putting [in] a significantly larger number of undercover officers. They're going to be intermingled with the crowd, they're going to be around the runners. They're going to be at the finish line," said Riccio.
Concert, Rose Bowl, Pasadena, California
Organizers for the Coldplay concert at the Rose Bowl, Pasadena, got on the phone Monday morning and decided there would be a lot more police officers at their concert this weekend. The stadium, one of the nation's 11 largest in the open air, is surrounded by mountains. Police will be patrolling the hillsides on Friday night, both on foot and in the air.
"You'll see more police officers, both armed police officers and unarmed security, outside the Rose Bowl," Art Schute, of the Pasadena Police Department, told CBS. "I think we always worry about a copycat type of situation, no matter what incident occurs."
Concertgoers have been told to ask to arrive earlier and to allow extra time to pass through security screening. It has a clear bag policy which will be enforced.
Mempho Music Festival, Memphis, Tennessee
Organizers of the Mempho Music Festival, which is expected to attract more than 10,000 people, said they were reviewing their security measures.
"To protect the integrity of our plans, not all the details will be made public… but we're reviewing our plans to make sure we've taken every step to ensure visitor safety," a representative for the festival told Esquire.
The Las Vegas massacre, the deadliest mass shooting in recent US history, took place last Sunday night, October 1, when a gunman opened fire for 10 minutes on a large crowd of concertgoers attending the Route 91 Harvest music festival.
Fifty-eight people were killed and another 489 injured when the shooter fired hundreds of rifle rounds from his suite on the 32nd floor at the Mandalay Bay hotel on the Las Vegas Strip.
The shooter, a wealthy gambler, was found dead in his suite, but his motives remain unknown.