Las Vegas police bodycam reveals chaos & terror of Mandalay shooting (VIDEO)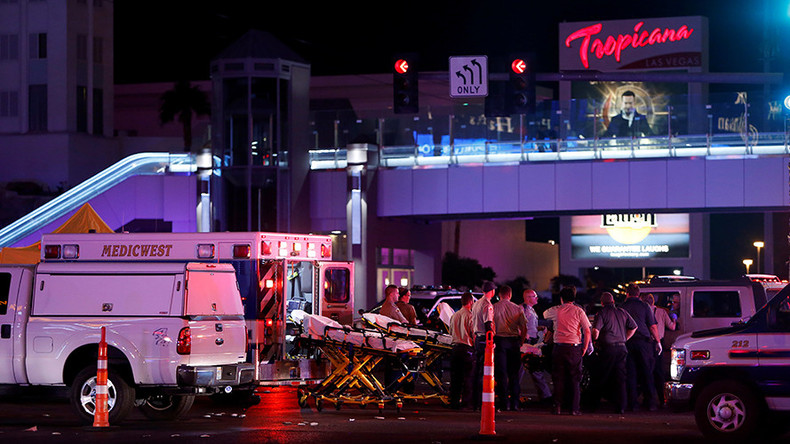 Police have released chilling bodycam footage from Sunday's mass shooting in Las Vegas, capturing the sounds of screams and rapid gunfire as authorities responded to the deadliest shooting in US history.
At least 59 people were killed and more than 500 injured when Stephen Paddock opened fire at the Route 91 Harvest country music festival. He shot from the 32nd floor of the Mandalay Bay Resort and Casino on to the spectators gathered below.
READ MORE: Deadliest US shooting: 58 killed, and 527 injured at Las Vegas music fest
In the bodycam footage, officers urgently order people away from the direction of the gunfire while a series of shots can be heard in the near background.
The footage, shared by Las Vegas Metropolitan police, shows chaotic scenes as officers try to guide people out of harm's way amid heavy gunfire.
The video was compiled from several body cameras worn by law enforcement at the scene. Police said they are still going through a significant amount of footage from the incident.
During the latest press briefing, Undersheriff Kevin McMahill revealed that the shooting lasted up to 11 minutes and involved more than a dozen volleys of gunfire.
McMahill confirmed that leaked photos circulating on social media purporting to be from inside Paddock's hotel room and showing the deceased suspect are authentic. The 64-year-old killed himself as authorities entered his room.
An internal investigation has been opened to determine the source of the leaks.
Police also confirmed the presence of cameras in the hotel, set up by the suspect.
Two cameras were located in the hallway to allow the attacker watch as authorities approached the room, while another camera placed inside the room door's peephole provided a view of the hallway.