'Save your energy Rex': Trump says negotiations with N. Korea are a waste of time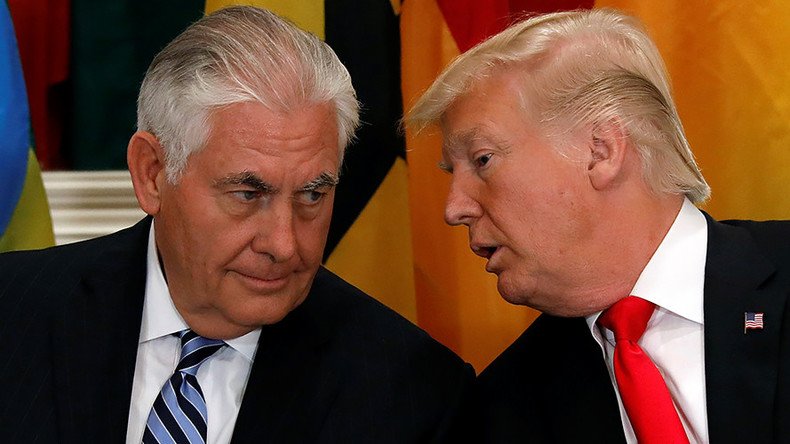 The US President Donald Trump apparently does not support his Secretary of State's efforts in peaceful talks with North Korea, having tweeted that Rex Tillerson should "save his energy" and Washington will "do what has to be done."
I told Rex Tillerson, our wonderful Secretary of State, that he is wasting his time trying to negotiate with Little Rocket Man...

— Donald J. Trump (@realDonaldTrump) October 1, 2017
...Save your energy Rex, we'll do what has to be done!

— Donald J. Trump (@realDonaldTrump) October 1, 2017
On Saturday, the US Secretary of State told the media that Washington has "lines of communications to Pyongyang," adding that the two nations are "not in a dark situation."
Tillerson, who has been on an official visit to China preparing for the arrival of president Trump in November, explained that the US is "probing" North Korea to see if it is interested in dialogue.
READ MORE: US has direct channels of communication with Pyongyang, not 'blackout' situation – Tillerson
However, following Tillerson's remarks, the US State Department said that "North Korean officials have shown no indication that they are interested in or are ready for talks regarding denuclearization."
Washington and Pyongyang have been threatening each other with military action for weeks now, while Russia and China have been calling for a diplomatic solution to ease tensions. A 'double-freeze' plan to suspend military activities was put forward by Moscow and Beijing, but has been rejected by Washington.
Meanwhile, top Russian and North Korean diplomats have engaged in discussions "on the current situation on the Korean peninsula and in north-east Asia," having met in the Russian capital this week. The efforts have been praised by the US State Department, with its spokesperson commenting that diplomacy is Washington's "preferred approach."
You can share this story on social media: