Tillerson & Mnuchin to oversee US sanctions on Russia, North Korea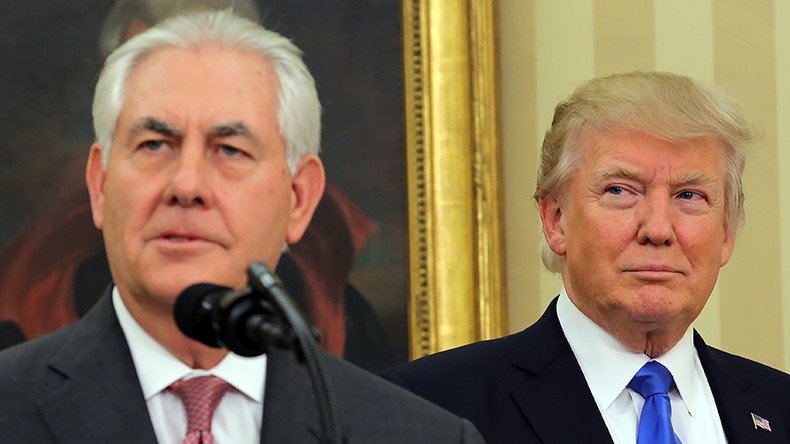 President Donald Trump has delegated some of his functions and authorities on US sanctions against Russia and North Korea to Secretary of State Rex Tillerson and Treasury Secretary Steve Mnuchin, according to a White House memo.
The new privileges falling on the shoulders of the Secretary of State entail cancelling cyber sanctions imposed on Russian individuals and entities, as well as expelling individuals or revoking visas from those undermining cybersecurity.
The memorandum also spans sections of the act regarding Russian financial institutions, corruption, sanction evaders and human rights abusers.
Tillerson is also now empowered to lift the application of penalties introduced against persons whom the US say contribute materially to the Syrian government by providing financial or technological support. However, the decision on punishing those will lay with both the state and treasury secretaries.
The two senior officials will also be responsible for the annual reports to Congress on media organizations funded by the Kremlin, as well reporting about funds provided by the Russian government or any Russian person "with the intention of influencing the outcome of any election or campaign in any country in Europe or Eurasia."
In consultation with Mnuchin, Tillerson has also been authorized to oversee sanctions relating to special Russian crude oil projects and individuals engaged in transactions with Russian intelligence or defense. Among other decisions are sanctions on foreigners employing North Korean labor.
President Trump has also transferred some other responsibilities to the Director of National Intelligence, Dan Coats, who will be in charge of submitting reports to Congress on cooperation between Iran and North Korea regarding nuclear and missile development and weapons programs.
In August, Moscow, Tehran and Pyongyang were again targeted by the US government with a new batch of economic punitive measures, which Trump grudgingly signed into law after Congress overwhelmingly supported the move.
Russia has been under sanctions from Washington and the EU since 2014 following the political crisis in Ukraine. The latest round, however, is designed to punish Moscow for its alleged meddling in the 2016 presidential election.
You can share this story on social media: