Despite more arrests, deportations down under Trump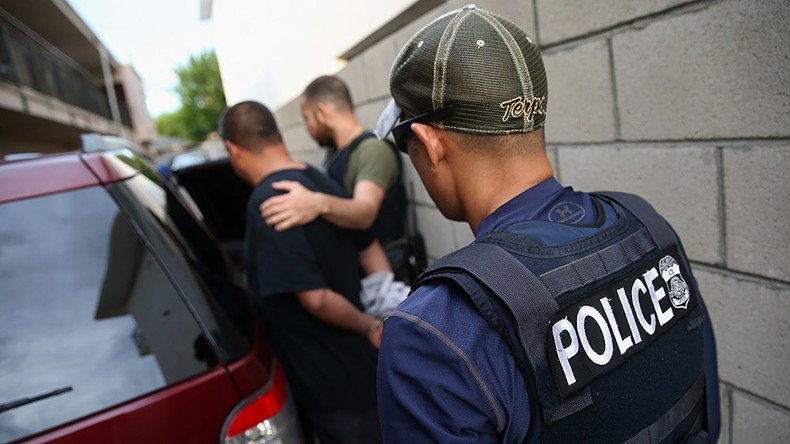 President Donald Trump is on track to deport fewer illegal immigrants this year than were expelled from the country at the same point last year under the Obama administration, government documents show.
The latest statistics show that as of September 9, three weeks before the end of fiscal year 2017, Immigration and Customs Enforcement (ICE) has deported 211,068 individuals, the Washington Post reported. This falls short of the 240,255 people who were deported in fiscal year 2016, under former President Barack Obama.
On the other hand, ICE agents have made 43 percent more arrests since Trump took office in January, in comparison to the same period last year. Many of the arrests involve people with no prior criminal charges.
ICE arrested some 28,000 "non-criminal immigration violators" between January 22 and September 2, according to the agency's records. This represents almost a threefold increase over the same period in 2016.
The perception of tougher enforcement by the Trump administration appears be a deterrent to illegal border crossings. Following Trump's inauguration, the number of people crossing the US border from Mexico illegally has declined dramatically.
Detentions by US border agents were down by as much as two-thirds in the first months of Trump's presidency compared to the same period the year before. Since then, illegal crossings have gone up again, but remain well below previous levels.
ICE officials have stated they will continue to prioritize criminal suspects under Trump, but the administration's new orders are clear that anyone in the country illegally is subject to arrest.
Representative Lamar Smith (R-Texas), who is a member of the House Committee on Homeland Security, said Trump "is keeping his promise to the American people to secure the border, deport illegal immigrants, and fix an immigration system that has long been broken."
"At every turn illegal immigration activists sue the administration and cooperating local law enforcement to stop increased enforcement efforts," Smith said.
Smith went on to blame "sanctuary" policies and advocacy groups for holding ICE back from deporting more people.
Nearly 500 jurisdictions across the US have declared themselves 'sanctuary cities,' refusing to cooperate with federal immigration officers. President Trump has threatened these municipalities with withholding federal funding if they do not comply with authorities.
READ MORE: Denver votes to shield illegal immigrants from federal authorities
Lawmakers in California have passed a bill that would give the entire state 'sanctuary' status. If signed by Governor Jerry Brown, Senate Bill 54 would go into effect in January.
Attorney General Jeff Sessions has called the California bill "unconscionable," as he is already well into a heated legal battle with several cities in the Golden State, including San Francisco, over threats to withhold federal funding over the 'sanctuary' designation.'
Though President Obama created executive programs to prevent the deportation of certain immigrants who came to the US illegally – under the Deferred Action for Childhood Arrivals (DACA) and Deferred Action for Parental Accountability (DAPA) programs – his administration also deported 2.5 million people, more than all other presidents in the 20th century combined, according to Al Jazeera.
In fiscal year 2012, ICE removals reached 410,000, leading to Obama being labeled the "deporter in chief" by his critics.
You can share this story on social media: