Iraqi Kurds' independence referendum illegitimate – Tillerson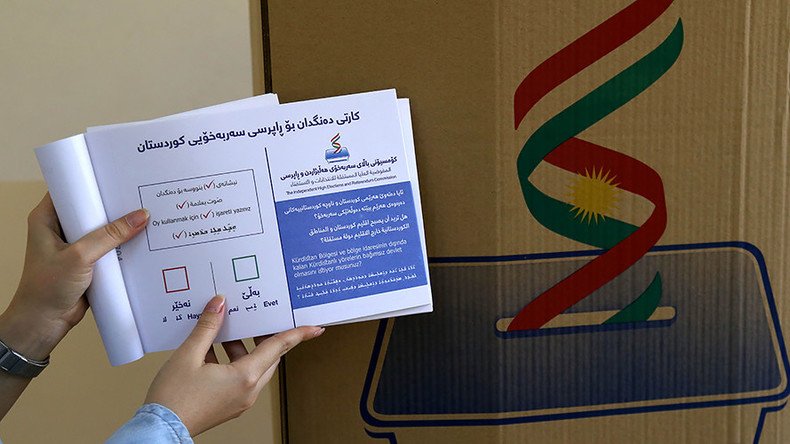 The US does not recognize the legitimacy of the unilateral independence referendum staged by the Iraqi Kurdistan Regional Government, US State Secretary Rex Tillerson has said in a statement.
"The United States does not recognize the Kurdistan Regional Government's unilateral referendum held on Monday. The vote and the results lack legitimacy and we continue to support a united, federal, democratic and prosperous Iraq," Tillerson said.

Washington also called on all parties, including Iraq's neighbors, to calm down and renounce the use of force following the referendum, apparently referring to the earlier remarks made by Turkey.
It also urged all parties to put an "end to vocal recriminations and threats of reciprocal actions" in the aftermath of the plebiscite.
The Iraqi Kurds held a unilateral independence referendum on September 25. A day later, the President of the Kurdistan Regional Government, Masoud Barzani, said most voters cast their ballots in favor of independence.
According to local media, some 3.45 million people took part in the plebiscite and more than 91 percent of them supported the idea of independence. Baghdad immediately denounced the move as "unconstitutional."
The Iraqi parliament even asked the government to send troops into the Kurdish areas. Neighboring Turkey, Iran, and Syria are also opposed to the creation of an independent Kurdistan over concerns that it may spur separatist sentiment in their own Kurdish-populated areas.
The US warned the Kurds ahead of the vote that it "strongly opposes" the referendum. State Department spokeswoman Heather Nauert said in a statement that the Kurds should instead accept the alternative of engaging in negotiations with Baghdad, and that those talks be facilitated by the US, the UN and other partners.
The Russian foreign ministry said on September 27 that Moscow continues to support the sovereignty and territorial integrity of Iraq and other Middle East nations. It added that even though it respects the desire of Kurds to have a national state, it also believes that all such issues should be resolved through a peaceful dialogue "at finding a mutual form of coexistence in a unified Iraqi state."
The day before, Turkish President Recep Tayyip Erdogan threatened the Iraqi Kurds with economic sanctions, adding that "military options" are also on the table.
The US has supported the Kurds for years and considers them allies in the fight against Islamic State (IS, former ISIS/ISIL). Washington's close ties with Kurds even resulted in a cooling of relations with Turkey, a NATO ally.
In May, President Donald Trump authorized the Pentagon to send arms to Kurdish militia units in Syria, which are known as the People's Protection Units (YPG), and who Ankara sees as closely linked to Turkey's separatist insurgents from the Kurdistan Workers' Party, the PKK.
In July, Turkey's Anadolu news agency reported that the US operates several bases located in the areas controlled by Kurdish militias.
You can share this story on social media: