#TakeAKnee: High school footballers face suspension for anthem protest
Published time: 29 Sep, 2017 15:14
Edited time: 1 Oct, 2017 11:19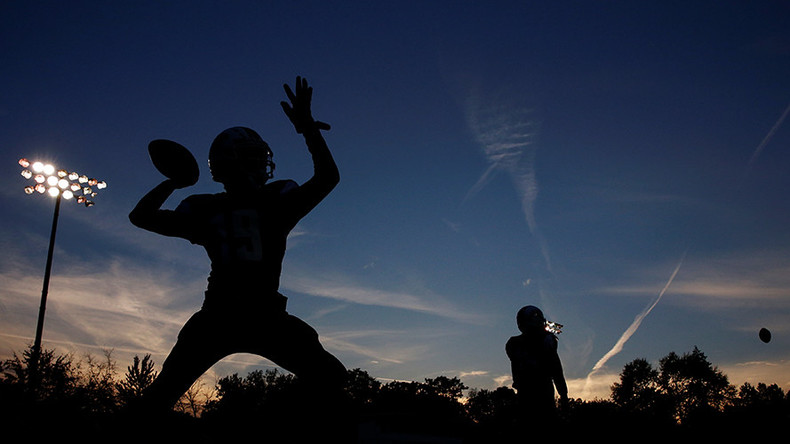 The ACLU has condemned several Louisiana school boards for threatening to punish student players who mirror the wave of protests taking place in the NFL by taking a knee during the national anthem.
"Bossier Parish is threatening to punish students for peacefully protesting racial injustice and taking a principled position for freedom and equality. This is antithetical to our values as Americans and a threat to students' constitutional rights," ACLU of Louisiana Executive Director, Marjorie Esman, said in an online statement, condemning both Bossier Parish School District and Parkway High School.
"Nearly 75 years ago, the Supreme Court rightly held that state schools have no business forcing students to stand for patriotic rituals," Esman added. "Schools have no valid interest in turning their students into mouthpieces of government speech, full stop."
"Indeed, schools should respect students who embrace their constitutional rights and stand up to injustice – not punish them. And it would be patently unconstitutional for the school to do so."
The Louisiana High School Athletic Association issued a statement saying that the decision to punish students is at the discretion of each individual school board which has opened the issue up for political points-scoring at the expense of students' individual rights.
"Freedom is not free. Each day the men and women at Barksdale Air Force Base and in other branches of the military in Bossier Parish and throughout the nation don a uniform and put their lives at risk as they proudly serve and protect us with honor. The least Bossier Schools can do is expect our student athletes to stand in solidarity when the national anthem is played at sporting events in honor of those sacrifices," said superintendent Scott Smith.
Sonja Bailes Bossier School District spokeswoman argues that playing school sports is a privilege, not a right.
"Bossier Schools is proud to be part of a parish where the vast majority of our citizens are proud to live in a patriotic community that supports its military and shows reverence when our national anthem is played at sporting events and other times," Bailes wrote, while sharing the Bossier Parish School Board's statement, as cited by KSLA.
Parkway High School has adopted a similar stance.
However, Caddo School board said Wednesday that students and staff are free to exercise their right to free speech so long as their protest remains peaceful and civil, reports KSLA.
The protests have been gaining momentum after recent outbursts from US President Donald Trump both online and in public in which he criticized players, coaches and owners in the NFL for their continued protests.
Most recently, Trump called for the NFL to institute and enforce a rule in which players and staff must stand for the national anthem.
The protest was started by Colin Kaepernick, formerly of the San Francisco 49ers, in 2016 to protest police brutality, particularly against minorities.