McDonald's becomes weed users' highest-ranking fast food joint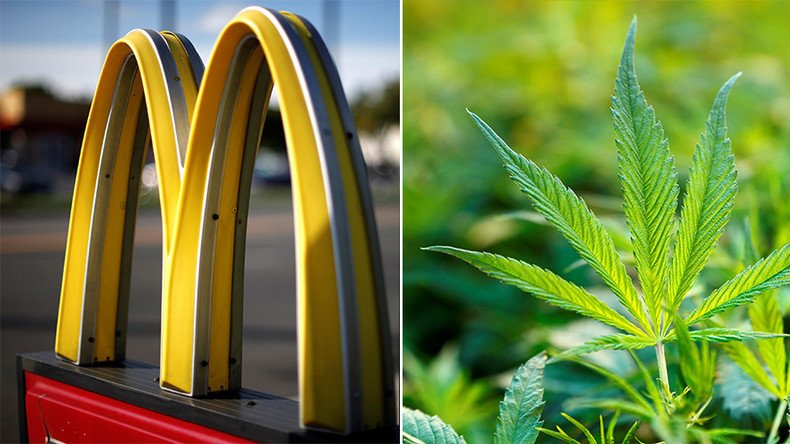 McDonald's is the top fast food restaurant for cannabis users in parts of the US where marijuana is legal, according to a new study.
An online survey conducted by cannabis news website Green Market Report and Consumer Research Around Cannabis revealed that 43 percent of 27,500 respondents who smoked legal marijuana considered McDonald's their top place to eat.
The second most popular place to eat is Taco Bell at 18 percent, ahead of Wendy's and Burger King at 17.8 percent and 17.6 percent respectively.
READ MORE: Cannabis company buys entire California town to create marijuana tourist destination
"McDonald's wins by virtue of the sheer number of locations – by default really," Jeff Stein, Vice President of Consumer Research Around Cannabis, said in a statement.
"Those competitors which better understand cannabis users and their consumer habits can certainly close the gap by integrating what they learn through their marketing efforts."
Other chains popular among cannabis users with the 'munchies' are KFC, Jack in the Box and Carl's Jr.
Meanwhile, some restaurants have begun adapting their business model to the new drug laws.
In Orange County, California, where marijuana is legal, Taco Bell has partnered with ride-sharing app Lyft to launch 'Taco Mode,' a feature that allows passengers to order food from an in-car menu which can then be picked up from a drive-through.
READ MORE: Indonesian man jailed for growing cannabis to help wife dying of cancer
The state of Maine could be about to borrow some facets of the fast food business model by allowing recreational marijuana drive-through dispensaries and home deliveries.
The northeastern state legalized marijuana in November last year and is considering a legislative bill that would make buying the drug as easy as buying a burger and fries.
The proposal has met opposition, however, with Republican State Senator Roger Katz telling the Portland Press Herald: "Given the fact that about half the people in the state voted against legalization, I think we ought to go slow and be cautious in the beginning."
You can share this story on social media: