Executive order will let Americans buy healthcare across state lines - Trump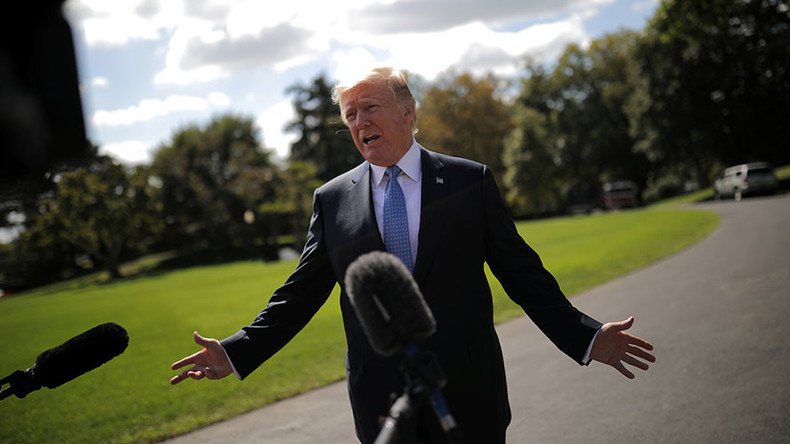 President Donald Trump says he will sign an executive order enabling Americans to purchase health insurance across state lines, after Republicans failed to repeal and replace the Affordable Care Act, also known as Obamacare.
Trump told reporters at the White House Wednesday that he is considering signing "a very major" executive order that will "take care of a tremendous number of people with regard to healthcare."
He said he will "probably" sign the order by next week, allowing people to buy insurance across state lines.
"It's going to cover a lot of territory and a lot of people ‒ millions of people," the president said, before boarding Marine One for Indiana.
Enabling the purchase of plans across state lines might provide some relief from the insurers' flight from many state exchanges, leaving millions of Americans stuck between having to buy insurance under Obamacare's mandate, but having only limited, expensive choices.
The announcement comes the day after Senate Republicans decided to scrap a vote to repeal Obamacare because they did not have enough senators lined up to approve the repeal bill.
"We made the decision that because we don't have the votes, we will postpone the vote," the bill's co-sponsor, Senator Bill Cassidy (R-Louisiana), said Tuesday.
Senator Susan Collins (R-Maine) joined John McCain (R-Arizona) and Rand Paul (R-Kentucky) in opposing the bill Monday.
Republicans currently hold 52 out of 100 Senate seats and could get Vice President Mike Pence to break a 50-50 tie. This means any bill not backed by any Democrats cannot pass with more than two GOP senators also voting against it.
On Wednesday, Trump told reporters he was "almost certain we have the votes," but noted that one of the bill's supporters was in hospital.
"We have the votes for healthcare. We have one senator that's in the hospital. He can't vote because he's in the hospital," Trump said. "We have two other votes that are coming, and we will have them."
With one Yes vote in hospital & very positive signs from Alaska and two others (McCain is out), we have the HCare Vote, but not for Friday!

— Donald J. Trump (@realDonaldTrump) September 27, 2017
The hospitalized senator was later identified Thad Cochran (R-Mississippi), who was recently treated for a urological issue and is currently recuperating at home, according to a statement from his office.
Trump said that without Cochran, the GOP would not have enough votes before Friday, when the window of opportunity to amend Obamacare under budget reconciliation procedures expires with the end of the fiscal year.
The Senate's budget reconciliation process would have allowed the GOP to bypass the filibuster rule, which requires 60 votes and would necessarily mean winning over some Democrats. The opposition party remains resolute in supporting President Barack Obama's keystone legacy legislation, however. Reconciliation can only be used once per fiscal year.
Trump said that another healthcare vote will take place in "January, February, or March." He also said that lawmakers will "get a longer process going for the couple of people that did want to see more process," referring to McCain.
The president also said he would be open to negotiating with Democrats to see if he could "get a healthcare plan that's even better."
You can share this story on social media: