Bannon-backed judge trounces Trump's pick in Alabama GOP Senate primary
Firebrand judge Roy Moore has defeated incumbent Senator "Big Luther" Strange in the runoff Republican primary for a Senate seat from Alabama. While President Donald Trump campaigned for Strange, many of his advisers have stumped for Moore instead.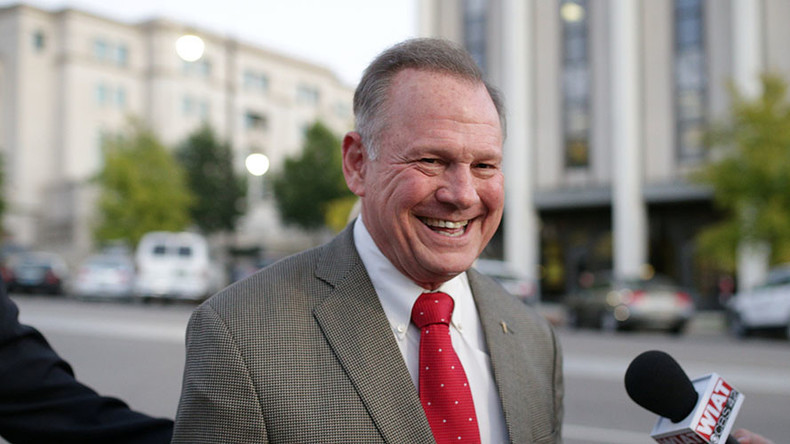 Strange has served in the Senate since February, appointed by Governor Robert Bentley to fill the seat vacated when Jeff Sessions was confirmed as the US attorney general. In April, however, Bentley stepped down amidst a corruption scandal. The new governor called for a special election on December 12.
READ MORE: Trump threatens 'Little Rocket Man' in Alabama campaign rally for Sen. Strange
In addition to support from Trump and Vice-President Mike Pence, Strange received over $9 million dollars from the SuperPAC called the Senate Leadership Fund, aligned with Senate Majority Leader Mitch McConnell (R-Kentucky).
CONSERVATIVE VICTORY HAS COME TO #ALSEN!

Because of you, tonight, the establishment has been DEFEATED in Alabama!

THANK YOU!

— Judge Roy Moore (@MooreSenate) September 27, 2017
Moore, a former Alabama Supreme Court judge, had the backing of former White House senior adviser Steve Bannon and his news outlet Breitbart, former Alaska Governor Sarah Palin, ousted White House adviser Sebastian Gorka, and many other outspoken Trump partisans who argued the judge would be a better champion of the president's agenda..
With over 90 percent of precincts reporting, Moore received 237,935 votes (54.8 percent) to Strange's 196,402, or 45.2 percent.
This was the first defeat for a Congressional candidate who was openly endorsed by the president. Trump did not seem too upset, however, congratulating Strange on a "good race" and Moore on his victory, and endorsing him in the December election.
<
Congratulations to Roy Moore on his Republican Primary win in Alabama. Luther Strange started way back & ran a good race. Roy, WIN in Dec!

— Donald J. Trump (@realDonaldTrump) September 27, 2017
Moore, 70, has been ousted from his state Supreme Court position twice. In 2003, he was dismissed for hanging a copy of the Ten Commandments in his courtroom, Thirteen years later, he defied the US Supreme Court's ruling in Obergefell v. Hodges, which legalized same-sex marriage nationwide.
At a campaign rally in Fairhope, Alabama on Monday, Moore sported a cowboy hat and at one point drew a gun waved it in the air, trying to illustrate his commitment to the Second Amendment.
Moore will face Democrat Doug Jones in the special election.
You can share this story on social media: