Trump threatens 'Little Rocket Man' in Alabama campaign rally for Sen. Strange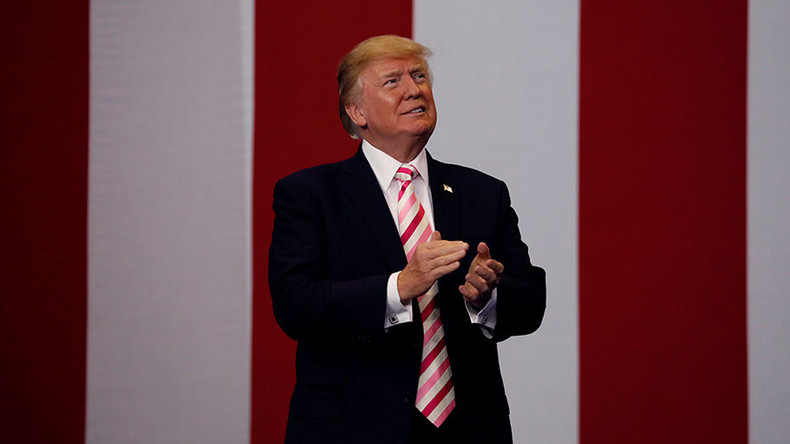 President Donald Trump is now calling Kim Jong-un "Little Rocket Man," a nickname he unveiled to a raucous crowd in Alabama, where he endorsed Luther Strange in a close Republican primary for a US Senate seat.
Trump traveled to Huntsville, Alabama, on Friday to support Senator Luther Strange (R-Alabama) ahead of Tuesday's Republican primary runoff election for a seat once held by Attorney General Jeff Sessions.
Trump has endorsed Strange, tweeting that he "has gained mightily since my endorsement," but adding that the inter-party vote "will be very close."
However, it is unclear how much Trump's endorsement has affected the race. On Thursday, a WALA-TV/Strategy Public Relations poll found that Roy Moore, Alabama Chief Justice of the state Supreme Court, was leading Strange by eight percentage points. RealClear Politics also has Moore, who has the support of many Trump grassroots supporters, leading Strange by an average of nine points.
KOREA
Trump began his speech by telling the audience that "Little Rocket Man," meaning North Korean leader Kim Jong-un, should have been "handled" a long time ago.
"We can't have madmen out there, shooting rockets all over the place," Trump said. "This shouldn't be handled now, but I'm going to handle it because we have to handle it."
Trump then spoke to Kim directly, saying "maybe something gets worked out, and maybe it doesn't." However, he added that Americans would be "protected."
Trump also said that China is working with the US on sanctions against North Korea, referring to Chinese President Xi Jinping as his "friend."
"And yesterday he basically took the banking industry from North Korea," Trump said.
HEALTHCARE
Trump then lamented on the GOP's failed healthcare votes and explained why he wasn't able to convince Senator John McCain (R-Arizona) to vote with the Republicans.
While the last bill to repeal and replace Obamacare was up for a vote, Trump said McCain's name was not on a list of 10 GOP senators who were "absolute total no's." The crowd booed loudly at nearly every mention of McCain.
Trump expressed how he spent weeks "screaming at people all day long" on the phone, but said he did not contact McCain because he was not on the list, which he described as "a totally unexpected thing."
Trump said the list did include Senator Rand Paul (R-Kentucky), but he was told Paul was a waste of time. Trump praised Paul for voting for the bill twice, calling him "very good."
"And I haven't given up on him because I think he might come around," Trump said. "Wouldn't it be strange."
Trump said Republicans will hold another vote "eventually."
LUTHER STRANGE
When Strange took the stage, he called for voters to "stand up" to McConnell, Senator John McCain (R-Arizona) and others. The audience erupted in applause.
Trump told a long story about how Strange was on the list of Republicans that would vote "no" on the GOP effort to repeal and replace Obamacare. But, after spending time with the president, Strange said he would change his vote. So, Trump said when he heard that Strange was "down in the race, by a lot," he gave him a call and told him he would endorse him.
"The last thing I want to do is be involved in a primary," Trump said, later adding that "we have to be loyal in life."
The president added that if Moore wins, he will be "campaigning like hell for him." But, he stated, "Luther will definitely win" in the general election against a Democrat.
"Luther's going to win easily," Trump said. "And Roy's going to have a hard time winning, but I will be backing him if he wins."
Trump said that Strange shares the same convictions, vision, "and maybe most importantly, he shares our agenda."
"Like all of you, Luther Strange knows the true source of America's strength; it's God, it's family, and it's country," Trump said.
Trump said that Strange "doesn't know Mitch McConnell at all" and he is "determined to drain that swamp."
He urged the audience to "get a friend, get a family member" and take them out to vote for Strange, citing how he is "tough on crime, tough on borders."
Trump then invited White House Chief of Staff John Kelly on stage. Kelley did get on stage after much coaxing, but walked off quickly without speaking a word.
"No games. He just wants to work," Trump said.
THE WALL
Trump then praised Kelly for his work on the Mexico border wall, which he said: "is happening."
The president told the crowd that his administration is busy renovating parts of the wall in order to make it "good as new."
However, Trump informed the audience that border patrol officers want to be able to see through the wall, in order to see drug dealers on the Mexican side that would throw drugs over the wall, which could hit someone in the head
"I don't know if you know this, frankly, I didn't know it until about a year ago, as much as I say, if you can't have vision through it, you don't know who's on the other side," Trump said. "So, you need to have a great wall, but it has to be see-through."
Trump said that they are currently building four different concepts of the wall, which he will personally visit in order to "pick the right one." He added that they are renovating the existing wall, but only "as much wall as we need."
"You don't need it all the way," Trump said. "You know we have 2,000 miles, you don't need it because you have a lot of natural barriers."
He said that the wall is "coming along great" and the renovations will be completed within the next six or seven months.