'Stand for anthem or get out of town': NASCAR stands firm against #TakeAKnee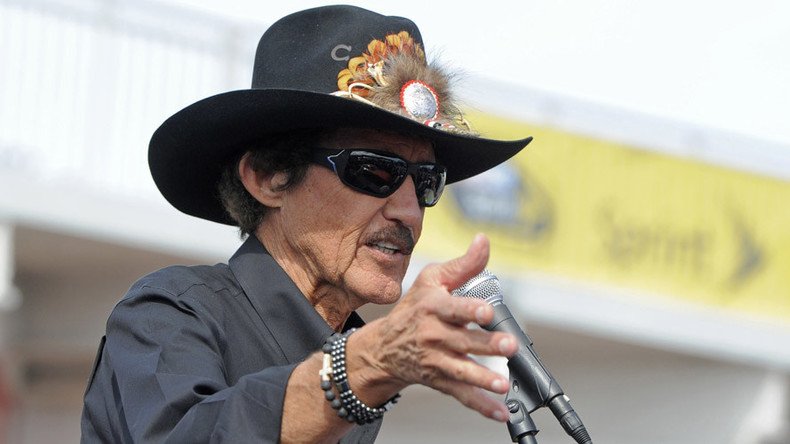 NASCAR owners are taking a firm stance against the 'Take a knee' anthem protests which escalated across the NFL in the wake of US President Donald Trump's tweets on the issue on Sunday.
The gesture was started by former San Francisco 49ers quarterback Colin Kaepernick last season as a demonstration against police brutality. Trump reignited the controversy on Friday when he said that anyone taking part in the demonstration should be fired.

While his comments caused a backlash among football players and team owners alike, the 'Take a knee' movement gained little traction in NASCAR where several owners said they would not condone drivers or staff taking part in the protests.
Richard Petty who co-owns Richard Petty Motorsports told the AP that anyone who refuses to stand for the national anthem should be forced to leave the country.
"Anybody that don't stand up for the anthem oughta be out of the country. Period. What got 'em where they're at? The United States," Petty said.
Those sentiments were echoed by another owner, Richard Childress, who said any protests from his team members would "get you a ride on a Greyhound bus."
"Anybody that works for me should respect the country we live in. So many people gave their lives for it. This is America," Childress said according to Yahoo sports.
READ MORE: Rapper Jay Z rumored to have rebuffed Super Bowl halftime show request in solidarity stand
Owner Andy Murstein also condemned the protesters but took a more conciliatory stance. When asked what he would do with an employee who takes a knee, Murstein told ESPN: "I would sit down with them and say it's the wrong thing to do that and many people, including myself, view it as an affront to our great country."
"If there is disenchantment towards the president or a few bad law enforcement officers, don't have it cross over to all that is still good and right about our country."
There was one notable exception to the hegemony, however, with driver and team owner Dale Earnhardt Jr backing the right of all Americans to peaceful protest, by quoting JFK on Twitter.
All Americans R granted rights 2 peaceful protests
Those who make peaceful revolution impossible will make violent revolution inevitable-JFK

— Dale Earnhardt Jr. (@DaleJr) September 25, 2017
Trump tweeted his appreciation for the stance of most involved with NASCAR on Monday morning, saying he's "so proud" of the sporting organization and its fans.
So proud of NASCAR and its supporters and fans. They won't put up with disrespecting our Country or our Flag - they said it loud and clear!

— Donald J. Trump (@realDonaldTrump) September 25, 2017
Kaepernick's stance was never far from the headlines during the summer off season. Having parted ways from the 49ers, he was not offered a role by any other NFL franchise – with many believing his 'Take a knee' protest made him an undesirable recruit for teams.
Trump, however, had no sympathy for him or anyone else engaging in the protest.
"Wouldn't you love to see one of these NFL owners, when somebody disrespects our flag, to say, 'Get that son of a bitch off the field right now. Out! He's fired. He's fired!'" he said at a rally for Republican Senator Luther Strange in Alabama.
"You know, some owner is going to do that. He's going to say, 'That guy that disrespects our flag, he's fired.' And that owner, they don't know it [but] they'll be the most popular person in this country."
READ MORE: 'Get that son of a bitch off the field': Trump takes aim at NFL anthem protesters (VIDEOS)
Those comments sparked rebuttals from NFL Commissioner Roger Goodell and numerous team owners, including the owner of the New England Patriots Robert Kraft, who Trump has referred to as a 'friend'.
The protests reached unprecedented levels when Sunday's slate of games rolled around. Dozens of players kneeled during the US anthem while several teams elected to stay in their locker rooms during the anthem to avoid the controversy.
As the NFL anthem protests unfolded, Trump responded by tweeting that fans "should never condone" the players involved.
Sports fans should never condone players that do not stand proud for their National Anthem or their Country. NFL should change policy!

— Donald J. Trump (@realDonaldTrump) September 24, 2017
The protest also received support in Major League Baseball where Oakland Athletics catcher Bruce Maxwell became the first player in the league to take part in the demonstration.
The National Basketball Association is currently on its off-season but several of the league's stars, including LeBron James, have strongly expressed support for the protests.
You can share this story on social media: