1 dead, 8 injured at 'mass casualty incident' at Tennessee church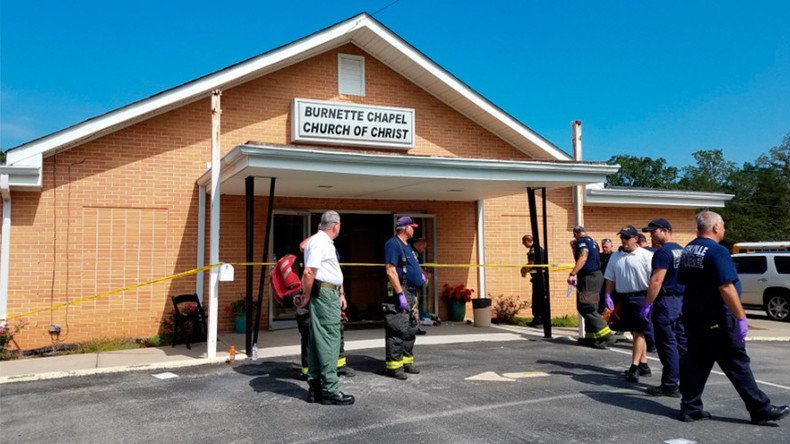 One person has died and seven were injured in a shooting at the Burnette Chapel Church of Christ in Antioch south of Nashville, Tennessee. The gunman is also being treated for self-inflicted injuries.
It's understood the shooting occurred shortly after 11am Sunday. Metro Nashville police spokesman Don Aaron told reporters that the church service had just ended when "a gunman arrived in the parking lot" and fatally shot a woman heading to her car.
The gunman then made his way into the church where he opened fire.
A church usher confronted the suspect, but was pistol whipped. He ran to his car to get his gun, and returned to the church. The shooter then shot himself, a Metro Police spokesperson told the media.
Police confirmed that the shooter was wearing a "type of neoprene mask like what you might see on a skiier." He is 26 years old and African American, police said.
"This is a mass casualty situation," Nashville Fire Department said in a tweet Sunday. "All of the wounded have been transported to area hospitals. The majority are older adults."
The fire department added that "all of the wounded except for one is over the age of 60."
All those injured in the shooting have been transferred to the Vanderbilt Medical Center, where, police said, "one person appears to be [in] more serious [condition] than others."
The gunman's condition is said to be "not life-threatening," according to authorities.
"He is under police guard right now at Vanderbilt University Medical Center," a police spokesperson said.
A woman living next door to the church told WKRN two people came up to her door and said, "Someone is shooting at us at the church."
Her husband went to the church and saw a victim that had been shot in the back. He saw someone lying in the doorway, and "some other people that were shot."
You can share this story on social media: