Last Word? Twitter loses it after MSNBC's Lawrence O'Donnell blows up in leaked tirade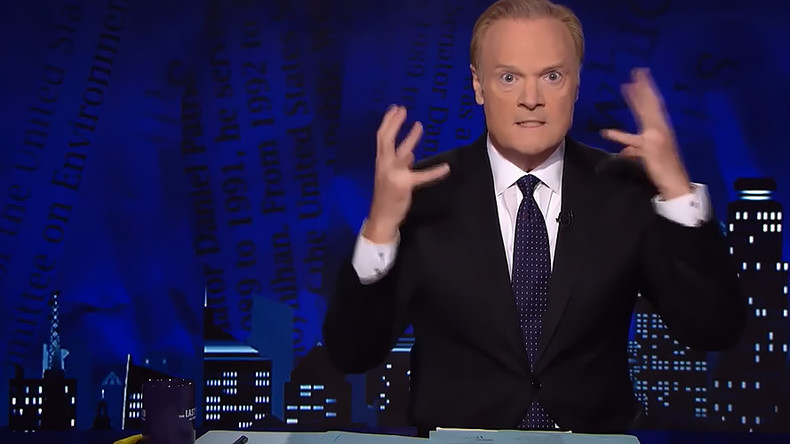 Video has leaked of cable news anchor Lawrence O'Donnell having a vicious and curse-laden meltdown between segments of his show. Twitter users reacted by creating memes and many even called him out for the childish behavior.
Footage released by Mediaite on Wednesday shows the host of MSNBC's "The Last Word" overreacting to noises coming through his earpiece while filming his show, which aired on August 29. O'Donnell stated there was "insanity in my earpiece," and "somebody talking on our lines," before throwing pens and crunching pieces of paper.
READ MORE: 'Putin masterminds chemical attack to help Trump' and other bizarre MSM conspiracy theories
As the video continues, O'Donnell's attitude gets a little more out of hand. The host starts muttering obscenities to himself, before shouting them out loud. The noises continued, at which point O'Donnell can be seen and heard saying, "Stop the hammering!"
"I'll go down to the goddamn floor myself and stop it, keep the goddamn commercial break going," the enraged host said to his studio crew.
O'Donnell even mentioned the president of MSNBC during his tantrum.
"Call f**king Phil Griffin, I don't care who the f**k you have to call. Stop the hammering," he said.
Then, toward the end of the video, O'Donnell complains to his staff about the segment he had just appeared in, because it did not end at the time he requested.
"I don't know why I bother to say how to cut the slots when you don't do it… now I have to chase those stupid goddamn end trails," he said. "Jesus Christ! Crazy f**cking sound coming in my ear, this f**king stupid hammering… I told you why I wanted those f**king words cut."
Following a chemical attack in Syria earlier this year, O'Donnell accused Russian President Vladimir Putin of orchestrating the killings to help distract from other issues facing President Donald Trump.