Final barriers to life-like robots overcome – US scientists (VIDEO)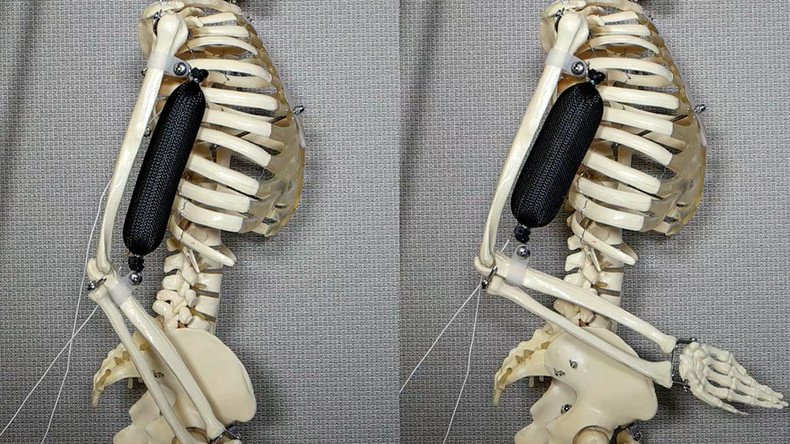 A 3D-printed "synthetic soft muscle" that could enable robots to carry out feats of super strength has been created by scientists in the US.
The soft 'actuator' was developed by researchers at Columbia Engineering in New York.
Hod Lipson, professor at the institution's Creative Machine Lab, is hailing the invention as a solution for upgrading robots that he believes are constrained by "primitive" bodies.
The breakthrough may accelerate the move away from clunky, awkwardly-mobile machines to robots indistinguishable from humans, as suggested in the sci-fi show 'Westworld.'
READ MORE: Global race for AI will 'most likely cause' WWIII as computers launch 1st strike – Musk
"We've been making great strides toward making robots' minds, but robot bodies are still primitive," Lipson said.
"This is a big piece of the puzzle and, like biology, the new actuator can be shaped and reshaped a thousand ways. We've overcome one of the final barriers to making lifelike robots."
Constructed from a silicone rubber matrix with ethanol distributed throughout the material in micro-bubbles, researchers believe the actuator can replicate natural muscle motions – but with super strength.
The new material has 15 times the strain density of a normal muscle, while it can lift 1,000 times its own weight, according to a Columbia Engineering study, published in Nature Communication.
READ MORE: Miniscule DNA robots could soon end need for major surgeries, researchers say
"Our soft functional material may serve as robust soft muscle, possibly revolutionizing the way that soft robotic solutions are engineered today," said lead author, Asian Miriyev.
"It can push, pull, bend, twist, and lift weight. It's the closest artificial material equivalent we have to a natural muscle."
You can share this story on social media: