North Korea envoy walks out ahead of Trump UNGA speech (PHOTO, VIDEO)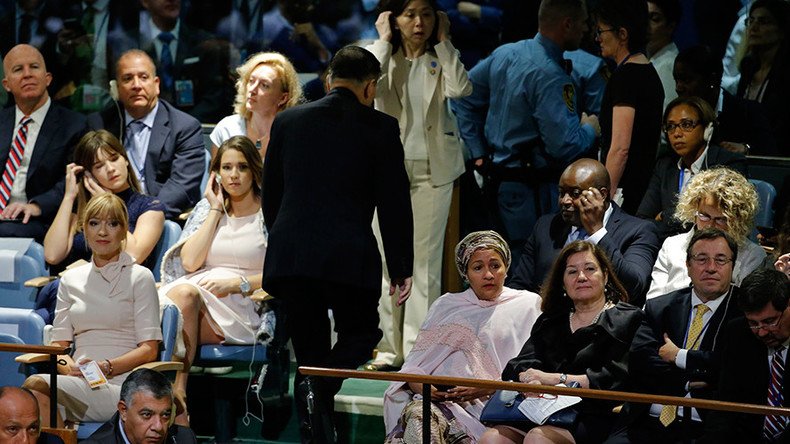 Donald Trump's first address to the United Nations General Assembly brought some interesting moments in international diplomacy as the US president issued rebukes to several states, chiefly North Korea and Iran.
The North Korean envoy actually left the room before Trump took to the podium and made more threats against Pyongyang.
The US president threatened to "totally destroy North Korea" and blasted its leader Kim Jong-un.
"Rocket Man is on a suicide mission for himself and his regime," he said.
Trump coined the 'Rocket Man' nickname over the weekend, sparking a social media frenzy which erupted again following his use of the term at the UN.
READ MORE: Trump calls Kim Jong-un 'Rocket Man' after call with South Korean leader
Social media users also noted the reaction of the US contingent, including Secretary of State Rex Tillerson and US Ambassador to the UN Nikki Haley during the roasting.
Trump condemned Iran's government as a "reckless regime." His strong critique appeared to wash over the Iranian ambassador, however, who was engrossed with his phone during the tirade.
"The Iranian government masks a corrupt dictatorship behind the false guise of a democracy," Trump added while the ambassador continued to tap away, unfazed.
You can share this story on social media: