Maria makes landfall in Dominica as a 'potentially catastrophic' Category 5 hurricane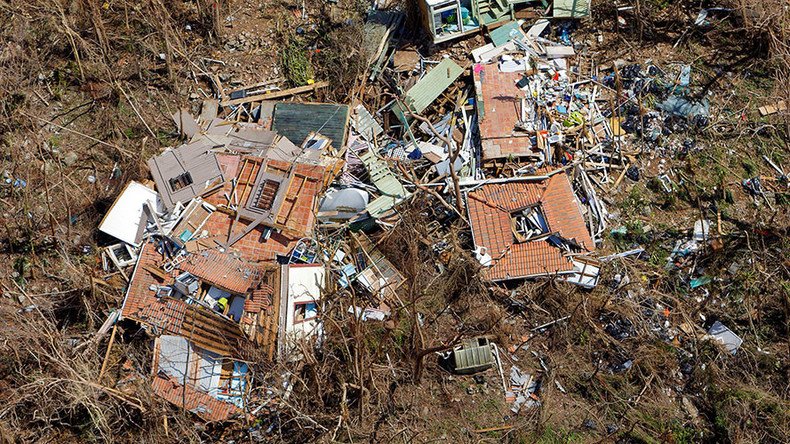 Hurricane Maria has been upgraded to a "potentially catastrophic" Category 5 hurricane by the National Hurricane Center (NHC) as it tracks across the already storm-battered Caribbean islands.
The eye of the hurricane is expected to pass near Dominica and the adjacent Leeward Islands during the next few hours and approach Puerto Rico and the Virgin Islands Tuesday night, according to the latest public advisory issued at 12:00am GMT.
A Hurricane Warning has been issued for Puerto Rico, Culebra, Vieques, the British Virgin Islands, the US Virgin Islands, Dominica and other islands in the area. Maria is likely to affect Puerto Rico as "an extremely dangerous major hurricane," according to the NHC.
An Air Force Reserve hurricane hunter aircraft flew in and around the storm and recorded maximum wind speeds of 160 miles per hour with even higher gusts.
The NHC predicts dangerous storm surges will accompany "large and destructive waves," which will cause the water levels to raise as much as six to nine feet above normal tide levels in Puerto Rico and the US Virgin Islands.
Certain areas of the US and British Virgin Islands and the Leeward Islands are also predicted to receive 10 to 15 inches of rainfall, with 12 to 18 inches predicted in Puerto Rico, according to the NHC.
"Rainfall on all of these islands could cause life-threatening flash floods and mudslides," the NHC warned.
Hurricane Maria quickly intensified from a Category 1 hurricane Sunday night to a Category 5 Monday night, making it one of the fastest growing storms in history.
At 3:00am GMT, the NHC issued an updated advisory, that said Hurricane Maria is moving over Dominica with sustained winds of 160 miles per hour.
Maria is the first Category 5 hurricane to hit the island of Dominica in recorded history, according to the Washington Post.
Prime Minister of Dominica Roosevelt Skerrit described the winds as "merciless" in a Facebook post.
Skerrit later said that his roof was blown off during the storm and he has been rescued, according to his Facebook page.
The Trinidad and Tobago Weather Center said that the roofs of "several main buildings" have also been torn off as Hurricane Maria cuts through the island.
France has ordered people in "at-risk areas" of Guadeloupe to evacuate, according to the Agence France-Presse.
Residents on the island adjacent to Dominica were warned not to go outside under any circumstances.
On Monday, President Donald Trump declared a state of emergency for the Virgin Islands, unlocking federal resources for the US territory and authorizing the Department of Homeland Security and the Federal Emergency Management Agency (FEMA) to coordinate all disaster relief efforts in the area.
Puerto Rico Governor Ricardo Rossello announced that Trump also signed a declaration of emergency for the island US territory Monday.
At a news conference, Rossello said Hurricane Maria could become a Category 5 by the time it reaches Puerto Rico. He added that the island will feel tropical storm winds from Tuesday to Thursday, with the brunt of sustained Category 4 or 5 winds on Wednesday.
Rossello urged anyone in a flood-prone area to move to a shelter, explaining that some houses are "not built to withstand 130, 140, 150 mile per hour winds."
"We want to alert the people of Puerto Rico that this is not an event like we've ever seen before," Rossello said. "This is an event that will be damaging to the infrastructure, that will be catastrophic and our main focus, our only focus right now should be to make sure we save lives."
The US territory of Puerto Rico is preparing for the hurricane to hit the island Wednesday morning. Starting midday Tuesday, conditions will begin to deteriorate and the island could get between 12 and 18 inches of rain, according to Rossello.
"Flood prone areas must be abandoned," Public Security Secretary Héctor Pesquera said. "If not, you will die." Officials have ordered four areas to be evacuated.
Hurricane Irma passed near Puerto Rico less than two weeks ago, leaving three people on the island dead and around one million without electricity.
But Irma largely spared the island, passing about 50 miles to the north and causing mainly wave damage.
Puerto Rico has not been hit by a Category 5 hurricane since 1928. The last Category 4 storm struck in 1932.
Both the US and British Virgin Islands, on the other hand, were devastated by Irma, which left "apocalyptic" damage in its wake, according to Stacey Plaskett, US Virgin Islands delegate to the House of Representatives. Irma killed four people on the US side of the islands, and another four on the British.
US Virgin Islands authorities pleaded with residents on Sunday to abandon already-damaged properties.
"It's critical people make the tough decision to walk away from their property and take along what is most important — their loved ones," Governor Kenneth Mapp said.
"Maria is expected to produce total rain accumulations of 6 to 12 inches with isolated maximum amounts of 20 inches across the central and southern Leeward Islands, including Puerto Rico and the U.S. and British Virgin Islands, through Wednesday night," the National Hurricane Center warned.
Tropical storm warnings and watches were issued for Barbados, St. Vincent and the Grenadines, Martinique, and Antigua and Barbuda, among others.
Most models, as of Monday morning, are forecasting Maria to stay away from Florida and the United States mainland.
More than 40 people were killed earlier this month, as Category 5 Hurricane Irma battered islands in the Caribbean.
You can share this story on social media: