'Point of action is to disturb': Silent protesters block St. Louis City Hall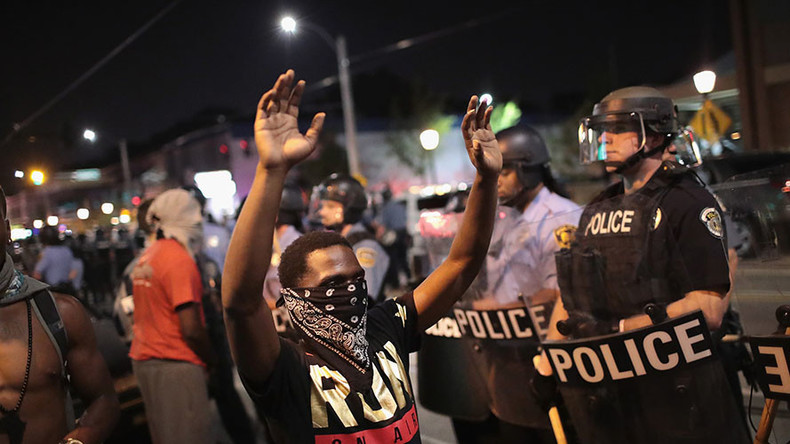 Over 100 people rallied outside the City Hall in St. Louis, Missouri on Monday, in the fourth day of protests over a 2011 police killing of an African-American man. The former police officer involved was acquitted by a judge.
Nearly 80 people were arrested over the weekend, as violent protesters smashed shop windows at night in marked contrast with peaceful demonstrations during the day.
On Monday morning, state Representative Bruce Franks Jr, (D-St. Louis) led demonstrators in chants.
"It's not about peace," Franks told the St. Louis Post-Dispatch as the protest began. "Peace in not an option, but we have to realize that there's a difference between peaceful and non-violence. Non-violent is an option. The point of action is to disturb. The point of action is to make folks uncomfortable."
With hands held up in surrender, protesters marched silently down 16th Street in downtown St. Louis, before coming to a standstill outside the City Hall.
Police officers began blocking Market Street and 14th and 17th Streets shortly before 8 am.
At Kirkwood High School, dozens of students staged a demonstration by walking into the football stadium and holding a moment of silence.
Outside the University City High School, about 250 students, clergy, police and activists gathered for speeches and poems. Some students were selling University City T-shirts to raise funds for businesses and others affected during the weekend protests.
The protests began on Friday after former St. Louis patrolman Jason Stockley was acquitted of first-degree murder and armed criminal action in the 2011 shooting death of Anthony Lamar Smith, following a police chase.
St. Louis Metropolitan Police said peaceful daytime demonstrations on Sunday descended into violence and destruction, during which windows were smashed and property destroyed. More than 80 people were arrested, as police used pepper ball projectiles to clear protesters from downtown St. Louis.
Representative Franks, who owns an insurance office on Cherokee Street, was sympathetic about business that sustained damage during the protests.
"Of course I wouldn't want anybody damaging my property," he said, according to the Post-Dispatch. "You gotta understand that the reason why we're out here is for black lives. The reason we're out here is because we're dying, so when we stop dying, when we stop being affected disproportionately by the system. Then we'll take a break. But until then we'll be here."