11 injured after man smashes car into crowd at Boise car show (VIDEOS)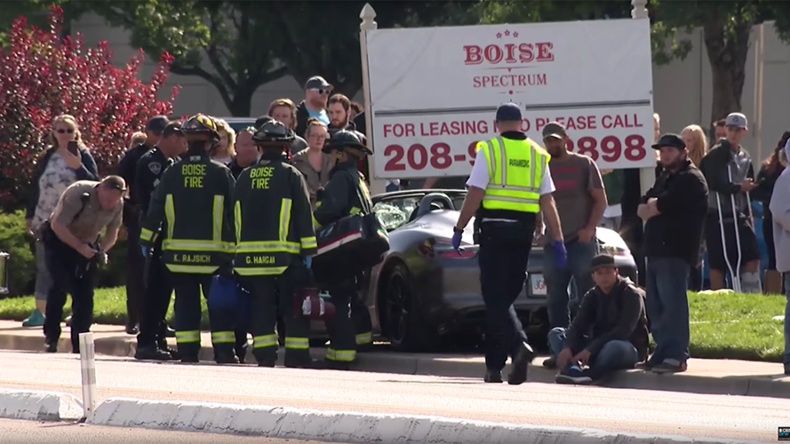 At least 11 bystanders have been injured and taken to hospital after a man driving a Porsche smashed into a crowd following an auto show outside the Boise Spectrum Center in Idaho.
On Saturday, a group of automotive enthusiasts hosted this season's, but final 'Cars and Coffee' event. Hundreds showed up to view the unique cars on show and engage the drivers. People especially stopped by to see Cameron Moore and his Pro1 car.
Just after 10:50am, as the show was wrapping up and vehicles were leaving the parking lot, a Porsche that was part of the show crashed into several pedestrians on the sidewalk.
"Preliminary information shows that the driver of a gray Porsche was accelerating rapidly as he left the car show," police said. "The driver lost control and ran into the nearby crowd."
READ MORE: 1 dead after car plows into pedestrians at New York's Times Square
Eyewitness video of the incident showed the Porsche spinning sideways before striking pedestrians. Screams can be heard while others are seen attending to the victims. Other eyewitnesses recorded the driver as he walked away from the scene.
The driver of the vehicle was then detained. The man was left unhurt and is now cooperating with the investigation. The victims sustained serious but not critical injuries, said Boise Police Lt. Charles LeBar, according to the Idaho Statesman. Boise Fire and Ada County Paramedics immediately responded to the incident.
"Six victims were taken to the hospital by ambulance, five were taken to the hospital in private vehicles," Boise police said in a statement.
Authorities said an investigation is underway and the evidence will be sent to the prosecutor for "possible charges."