St. Louis braces for violence after ex-cop is acquitted of murdering black man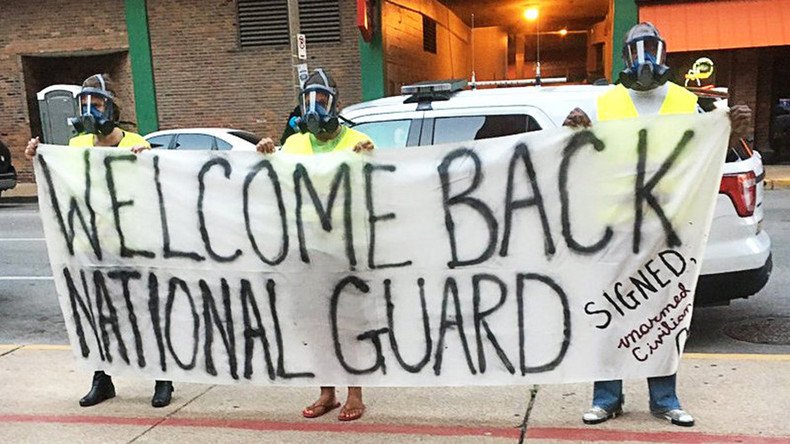 Protests began in Saint Louis, Missouri following the 'not guilty' verdict for a former police officer who shot and killed Anthony Lamar Smith under controversial circumstances. The officer is white, while Smith is African-American.
Several dozen protesters blocked an intersection in downtown Saint Louis, local media reported.
Others gathered in front of the Police Department calling for resignations following the verdict.
Former officer Jason Stockley, 36, had been accused of intentionally killing Anthony Lamar Smith, 24, and planting a gun in his car. Stockley testified that he acted in self-defense.
Missouri Governor Eric Greitens put the National Guard on standby "as a necessary precaution" in anticipation of possible protests related to the verdict. Racial tensions ran high in the state following the 2014 fatal shooting by a white police officer of unarmed black teenager Michael Brown in Ferguson, near St. Louis.
During a car chase in December 2011, Stockley could be heard in a police dashcam video saying that he was going to kill Smith, court documents show. Less than a minute later, after slamming into Smith's car, Stockley approached the vehicle and shot Smith five times.
Stockley's lawyers said he fired in self-defense because he believed Smith was reaching for a gun. Prosecutors said the gun recovered from the scene had only Stockley's DNA on it.
Prosecutors argued that the former police officer planted the gun, and questioned why Stockley reached into a bag in the back seat of the police SUV before returning to Smith's car after the shooting.
Stockley refused a jury trial, preferring to let the judge decide.
"This court, as a trier of fact, is simply not firmly convinced of defendant's guilt," Circuit Judge Timothy Wilson wrote in his ruling. "A judge shall not be swayed by partisan interests, public clamor or fear of criticism," he added, quoting the Code of Judicial Conduct.
St. Louis Mayor Lyda Krewson called for calm.
"Frustration, anger, hurt, pain, hope and love all intermingle," she said in a statement. "I encourage St. Louisans to show each other compassion."
"I'm sad, I'm hurt, I'm mad," the Reverend Clinton Stancil of the Wayman AME Church in St. Louis told Reuters. "But this was expected. We haven't made any progress since Ferguson, that's clear. Cops can still kill us with impunity."
In recent years grand juries have chosen not to charge officers involved in the shooting of Michael Brown and the choking death of Eric Garner in New York, both unarmed. In the case of Freddie Gray, who broke his neck inside a police van in 2015, six Baltimore PD officers were indicted, but after three were cleared in court the state dropped all charges.
You can share this story on social media: