Assange trolls 'triggered' Pompeo for 'WikiLeaks an enemy of the US' claim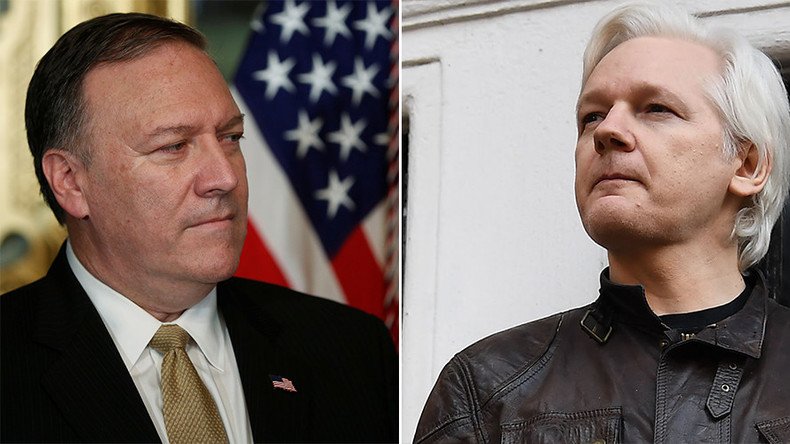 WikiLeaks is an enemy of the US, according to CIA head Mike Pompeo, who was trolled mercilessly by Julian Assange and others unimpressed by his perceived hypocrisy.
Pompeo made the claim in a letter to Harvard expressing his displeasure at the Ivy League school's decision to make "American traitor" Manning a visiting fellow. Harvard subsequently reversed its decision.
READ MORE:'A mistake:' Harvard rescinds Chelsea Manning's visiting fellow invitation following backlash
Manning "betrayed her country" by leaking classified information to WikiLeaks, Pompeo said, explaining the whistleblowing website was both an enemy of the US and "akin to a hostile foreign intelligence service."
The CIA director claimed Manning "stands against everything the brave men and women I serve alongside stand for," and pointed out he was not referring to Manning being transgender, just "her identity as a traitor" to the US.
Manning served the US "with disgrace," Pompeo said, and "violated the warrior ethos she promised to uphold," by whistleblowing on the US actions in Iraq and Afghanistan.
Pompeo was soon called a hypocrite given his past praise of WikiLeaks. The former Kansas congressman appeared to be a big fan of the whistleblowing organization last July, tweeting about the DNC emails published by WikiLeaks.
Pompeo tweeted details from both the DNC emails and emails from Hillary Clinton's Campaign Chair John Podesta during the 2016 election to criticize Clinton, as evidenced by archivedversions of his comments. Both tranches of emails were published by WikiLeaks.
READ MORE:Best of the worst: Here are the most shocking WikiLeaks Podesta emails so far
Assange appeared to be trolling Pompeo and his "cry-bully complaint," tweeting the CIA head had been "triggered" by Harvard's decision.
So happy the head of the CIA has declared @WikiLeaks "an enemy of the United States." (really, CIA incompetence). Extradition much harder.

— Julian Assange 🔹 (@JulianAssange) September 15, 2017
Head of the CIA gets triggered by Harvard giving Chelsea Manning a platform virtue signals in cry-bully complaint and no-platforms. #ManUp

— Julian Assange 🔹 (@JulianAssange) September 15, 2017
Pompeo made similar statements about WikiLeaks in April at a Center for Strategic and International Studies (CSIS) event in Washington, claiming WikiLeaks founder Julian Assange and his associates were "demons."
READ MORE: WikiLeaks 'hostile intel,' Assange & his followers 'demons': CIA chief goes ballistic
"It's time to call out WikiLeaks for what it really is, a non-state hostile intelligence service, often abetted by state actors like Russia," he said.
You can share this story on social media: