'Godzilla coming to town': Berkeley braces for violence ahead of conservative's speech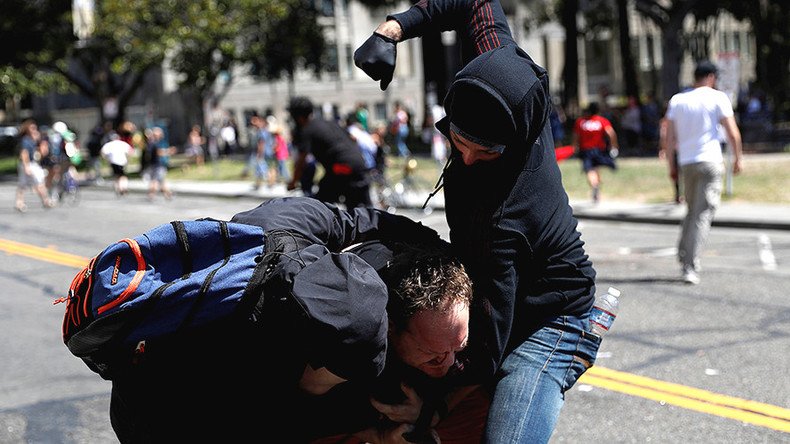 The University of California at Berkeley is preparing for a possible repeat of violent clashes, as it hosts conservative speaker Ben Shapiro. This time, police will be allowed to use pepper spray and tear gas to disperse a rowdy crowd.
Berkeley is taking extraordinary measures to prevent violence on the campus Thursday night, following a series of clashes in the past where left-wing protesters tried to disrupt events organized by conservatives, many of whom were President Donald Trump's supporters.
Ben Shapiro, founder and editor of the conservative website the Daily Wire, is not a Trump supporter. Not only has he never endorsed Trump, he has often criticized the president. Last year, he resigned from Breitbart News citing the outlet's reporting on the Trump campaign.
According to Shapiro, Breitbart editor Steve Bannon was "a bully, and has sold out Andrew [Breitbart]'s mission in order to back another bully, Donald Trump; he has shaped the company into Trump's personal Pravda."
Shapiro said his speech will focus on "campus thuggery" and identity politics, referring to a number of events in the past year organized by conservative groups at Berkeley that were canceled or disrupted due to counter protests.
"I'm just coming to campus to give a speech about the uselessness of violence in political discourse," he told KNTV Wednesday. "And now half the city is being shut down. I have to admit I'm sort of confused at what I've done to cause this. Everyone's treating it like Godzilla is coming to town."
UC Berkeley has installed concrete k-rail barriers around the school's Zellerbach Hall.
Area stores are also taking proper precautions, with many boarding up their windows ahead of the speech.
The Berkeley City Council voted this week to allow police to fire pepper spray at violent protesters, ending a two-decade-old city ban on the measure. Police can also fire tear gas canisters to control crowds. Traffic barriers made of concrete will be set up around the campus, instead of metal fences, which protesters toppled within minutes during riots ahead of right-wing media personality Milo Yiannopoulos' scheduled speech at Berkeley in February.
On Wednesday, the city announced it would temporarily ban billy clubs, torches, flags, baseball bats, pipes and other items from public parks and the areas around campus, according to the Daily Californian. Also, no masks and bandannas will be allowed in three of Berkeley's public parks.
One of the groups that is protesting against Shapiro's speech is Refuse Fascism, which calls Shapiro a fascist.
"He is a slick talking, reasonable sounding man, but what he actually pushes forward is white supremacy, is misogyny," activist Sunsara Taylor told AP.
In its press-release, Refuse Fascism also claims that "the Trump/Pence Regime is a fascist regime that must be driven from power through the mass political protest of millions of people."
Calling Shapiro a fascist is "absurd and laughable," Naweed Tahmas, one of the leaders of Berkeley College Republicans, told RT. BCR is the group that invited Shapiro to speak. To the left-wing groups trying to shut down their events, "every conservative is a fascist," Tahmas said. "Being conservative in Berkeley is controversial. These leftist groups have developed a straw man out of our group and our speakers by attaching false labels onto us."
"I invited the leaders of left-wing groups on campus to ask Mr. Shapiro a question during the question-and-answer portion of the event and all, but one, rejected my invitation," Tahmas added.
Between September 24 and 27, other conservative figures are expected to speak at Berkeley, including Steve Bannon, who recently returned to head Breitbart News after working as Trump's chief strategist, as well as authors Milo Yiannopoulos and Ann Coulter and, reportedly, Erik Prince, private military contractor and founder of Blackwater.
University of Berkeley had previously come under criticism for canceling events with Yiannopoulos and Coulter after protests.
In April, Coulter was told that the college could not meet the necessary security requirements to guarantee her safety at the event. Berkeley College Republicans and the Young America's Foundation, who sponsored the event, sued the university.
In mid-August, the University of California in Berkeley announced "Free Speech Year," gearing up to host conservative speakers despite the expected backlash.
"I think we're in an area which presents both challenges to the law and challenges to university policy when a speaker occasions the university to first of all spend extraordinary amounts of money and take extraordinary measures that are quite disruptive to the university's main business in order to protect the right of free speech," UC Berkeley's Chancellor Carol Christ said Wednesday.
On August 28, masked 'Antifa' and other protesters attacked the participants of 'No to Marxism' rally in Berkeley. The event was canceled and 13 people were arrested. Six people were injured during the melee, two of whom were sent to the hospital.
You can share this story on social media: