'Pharma Bro' Shkreli sent to jail after offering $5k for Clinton's hair in cloning joke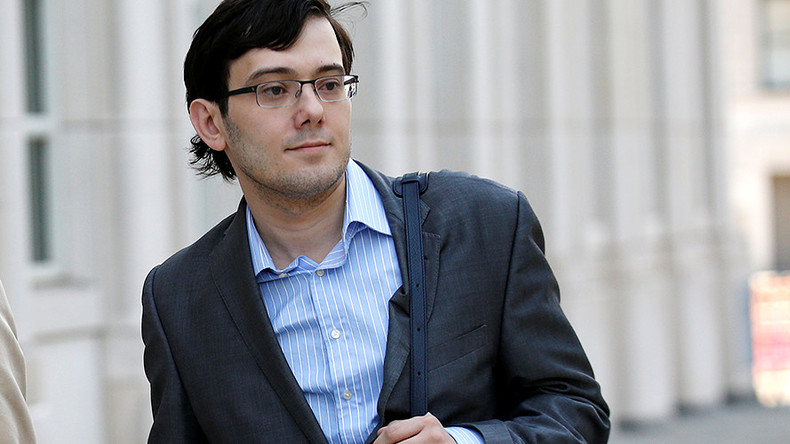 Convicted fraudster and former pharmaceuticals company CEO Martin Shkreli, once dubbed the "most hated man in America," is headed to jail after having his bail revoked over a Facebook post in which he offered $5,000 for a strand of Hillary Clinton's hair.
US District Judge Kiyo Matsumoto ruled on Wednesday that Shkreli's post on September 4 showed he posed a danger to the public.
In that post, the 34-year-old offered a generous bounty to anyone who could steal a hair from former Democratic presidential candidate Hillary Clinton while she was on her book tour.
"The Clinton Foundation is willing to KILL to protect its secrets. So on HRC's book tour, try to grab a hair from her. I must confirm the sequences I have. Will pay $5,000 per hair obtained from Hillary Clinton," the Facebook post stated.
Although Shkreli's lawyer, Benjamin Brafman, argued the post fell under the right to free speech, Judge Matsumoto disagreed.
"This is a solicitation of assault in exchange for money," the judge said. "That is not protected by the First Amendment."
Matsumoto was also unsympathetic to a letter written to her by Shkreli on Tuesday, in which the 34-year-old said the Facebook post was meant as satire.
Brafman maintained that line on Wednesday, prompting the judge to pointedly ask: "What's funny about that?"
Matsumoto noted that one of Shkreli's 93,000 Facebook followers could have taken the post seriously, setting out on a mission to steal a piece of Clinton's hair.
The judge also pointed to a July post by Shkreli in which he said he would have sex with journalist Lauren Duca as part of a pattern of threatening behavior. Shkreli was banned from Twitter in January for harassing Duca after she refused his invitation to attend US President Donald Trump's inauguration.
The judge's ruling ordered that Shkreli's bail be revoked, resulting in jail time for the former CEO of Turing Pharmaceuticals, who was convicted in August of defrauding investors of two hedge funds he ran, MSMB Capital and MSMB Healthcare.
Brafman unsuccessfully pleaded with Matsumoto following the ruling, asking her to reconsider sending Shkreli to what he said would be a maximum security jail, or at least give him until Monday to prove he was not a threat.

"We are obviously disappointed," Brafman told reporters outside the Brooklyn, New York, courthouse.
"We believed that the court arrived at the wrong decision. But she's the judge, and right now we will have to live with this decision."
Shkreli had been enjoying his freedom since his arrest in December 2015, after paying a bail of $5 million.
Matsumoto scheduled Shkreli's sentencing for the securities fraud conviction for January 16. His charges carry a maximum sentence of 20 years, but the 34-year-old is expected to serve much less, partly because none of the investors involved in his schemes lost any money.
Shkreli became a household name in 2015 when he raised the price of the anti-infection drug Daraprim by 5,000 percent, from $13.50 to $750 a pill.
That move resulted in him being dubbed "Pharma Bro" and "the most hated man in America," as people with weakened immune systems - including AIDS patients - have come to rely on the pill.
Following a backlash from politicians, patients' rights groups and Twitter users, Shkreli eventually announced his company had agreed to "lower the price of Daraprim to a point that is more affordable and is able to allow the company to make a profit, but a very small profit," ABC News reported at the time.