White House on lockdown for second time in 2 days (VIDEO)
Published time: 12 Sep, 2017 17:10
Edited time: 13 Sep, 2017 18:11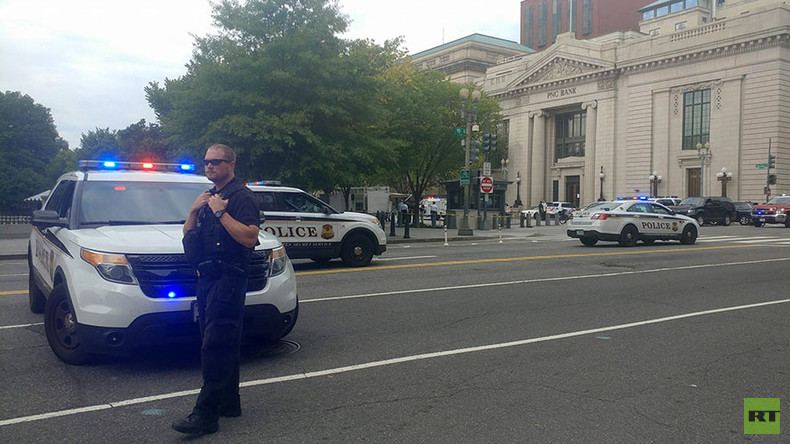 The White House was locked down for the second time this week, due to reports of a suspicious package. Media waiting for the daily press briefing were told to stay indoors.
A suspicious package was found on the corner of Pennsylvania Avenue and Madison Place NW, the Secret Service told Sputnik. The intersection is on the northeast corner of the White House complex.
Fire department and police personnel were on the scene, RT America's Alex Rubinstein reported.
This is the second time in two days that the Secret Service has locked down the White House due to a security incident. Two individuals were detained on Monday, after a man threw "a sign and a notebook" over the White House fence on Pennsylvania Avenue, the Secret Service said. The objects were declared "nonhazardous."
Some reports said that one of the objects was a yoga mat. That was not confirmed by the Secret Service, however. President Donald Trump and the First Lady were not on the grounds at the time, but were attending the 9/11 commemoration ceremony at the Pentagon.
The lockdown was lifted shortly after 2 pm local time, the Secret Service said.
The 1500-1700 block part of Pennsylvania Avenue has been closed to vehicle traffic since 1995, after the Oklahoma City bombing. The policy was made permanent after September 11, 2001 terrorist attacks. Pedestrian and bicycle traffic is still allowed, unless there is a lockdown.
The north side of the White House grounds looks onto Lafayette Park, a popular tourist spot. Several incidents of people jumping over the spiked fence during the last two years of the Obama administration have prompted efforts to raise the fence and install additional spikes. An additional security perimeter was created along the southern side of the White House, restricting pedestrian access.