Bomb threat prompts evacuation of Santa Monica Pier
Published time: 11 Sep, 2017 23:36
Edited time: 12 Sep, 2017 07:41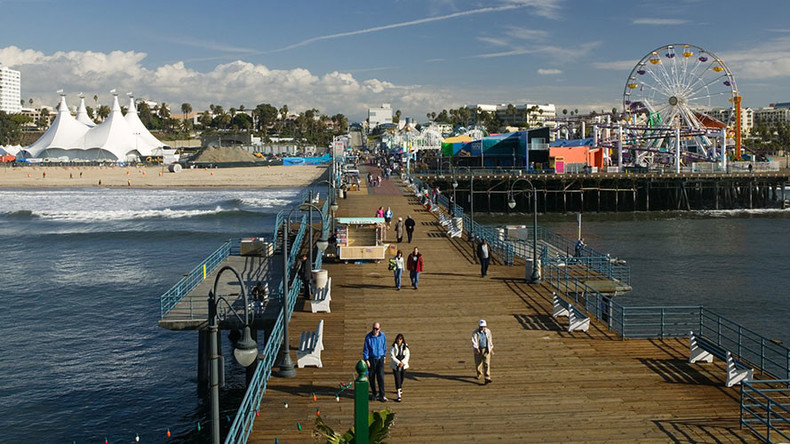 A bomb threat at the Santa Monica Pier in California is being investigated by police who have evacuated the popular tourist destination. The timing of such a scare on the 16th anniversary of the September 11 terrorist attacks may heighten security concerns.
Hours after a suspicious vehicle was deemed safe, the pier remained closed Monday until around 7:00pm local time.
The Santa Monica Police Department (SMPD) confirmed with RT America that the evacuation was ordered due to a bomb threat. Police also confirmed as of 5:00pm local time that there were no injuries and that no bomb had been found.
The SMPD has advised people to avoid the Santa Monica Pier until further notice due to "police activity."
Police were first made aware of a possible bomb threat from notifications by the Hawthorne Police Department and the Culver City Police Department. No link has been found to any particular caller, according to the SMPD.
A perimeter search of the pier was conducted, and a suspicious vehicle prompted the evacuation. Local FBI officers have been assisting in the investigation.
Video taken at the beach shows a Los Angeles County Sheriff's Department (LASD) helicopter landing on the sand. People were seen recording video or not even getting up from their towels, where they bathed in the sun's rays.
The LASD and SMPD are investigating a suspicious vehicle.
A bomb robot was searching the pier's parking lot, according to KABC.
The Santa Monica Fire Department has specifically advised people to evacuate the surrounding area and Ocean Avenue as well.