Crane crash halts removal of Confederate monument in Texas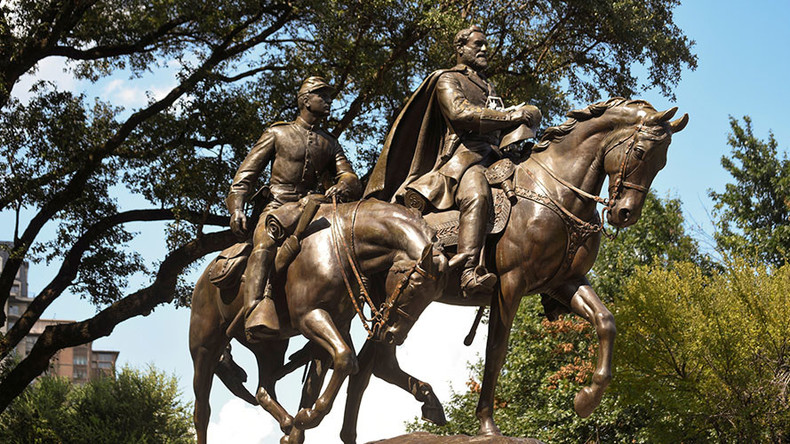 The scheduled removal of the statue of Confederate General Robert E. Lee in Dallas, Texas has been delayed, after the crane dispatched for the purpose was involved in a crash that killed one, city officials said.
A tractor-trailer collided with the crane on a freeway exit ramp Sunday evening, Dallas police. The truck driver was pronounced dead at the scene. The crane driver was not injured.
It was not immediately clear when city officials would resume the removal of the monument. The Dallas city council voted to get rid of Lee's statue from the Robert E. Lee Park on Wednesday.
There has been a wave of Confederate monument removals across the US, following the violence in Charlottesville, Virginia on August 12. White nationalists gathered in Charlottesville to protest the planned relocation of a Lee monument, and clashed with a group of counter-protesters. Later in the day, a car reportedly driven by one of the white nationalists crashed into a crowd of counter-protesters, killing one woman and injuring 19 other people.
A number of cities have since removed Confederate statues, including Baltimore, Maryland, which hauled away four monuments in just one night in August.
The University of Texas also removed several statues of prominent figures who fought for the South during the American Civil War, including Lee, from its campus in Austin, calling them "symbols of subjugation" revered by white supremacists.
"Erected during the period of Jim Crow laws and segregation, the statues represent the subjugation of African Americans. That remains true today for white supremacists who use them to symbolize hatred and bigotry," the university's president Greg Fenves said in August.
In other places, activists took the matter in their own hands. In Durham, North Carolina, protesters tore down and vandalized a memorial to Confederate soldiers. A man in Houston, Texas was charged with trying to blow up a Confederate statue.
While many in the US see the Confederate monuments as symbols of racism and support for slavery, others view them as part of history. President Trump has defended the monuments, calling the removals "foolish."
The president pointed out that America's first president, George Washington, and the author of the Declaration of Independence, Thomas Jefferson, also owned slaves.
A Reuters/Ipsos opinion poll found that 54 percent of Americans believe Confederate monuments "should remain in all public spaces," while 27 percent said they must go. The remaining 19 said they didn't know.
The poll was conducted online throughout the US from August 18-21, gathering responses from 2,149 people, including 874 Democrats and 763 Republicans.