Majority of Americans think Confederate statues should remain – poll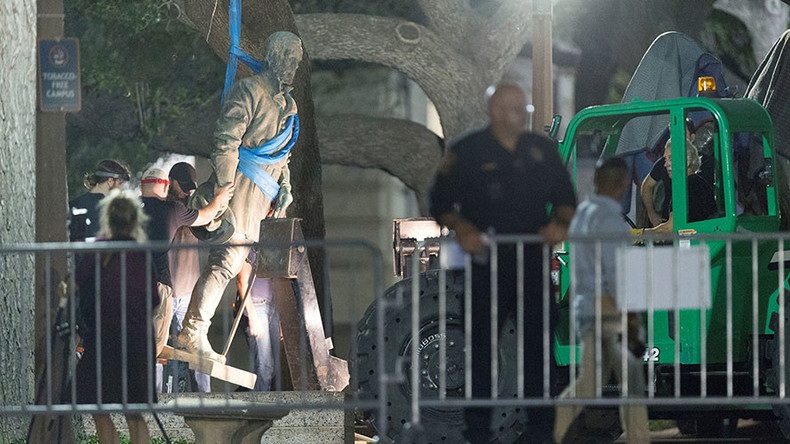 Despite a growing push across the US to dismantle monuments to Confederate generals and those who fought for the South during the American Civil War, the majority of Americans believe they should be kept in public spaces, a new poll says.
Read more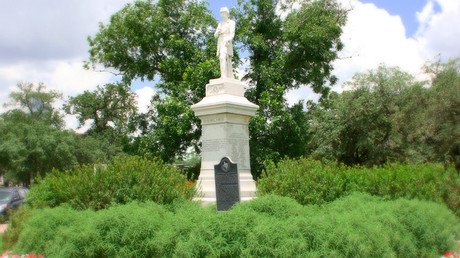 The Reuters/Ipsos opinion poll found that 54 percent of adults believe Confederate monuments "should remain in all public spaces."
In contrast, 27 percent said they "should be removed from all public spaces."
The rest – 19 percent – said they "don't know."
Responses to the poll were split along racial and party lines, with white people and Republicans in favor of preservation, while Democrats and minorities tended to support removal.
The poll was conducted online in English throughout the US from August 18-21, gathering responses from 2,149 people, including 874 Democrats and 763 Republicans.
The survey also showed that the public was divided over the recent 'Unite the Right' rally in Charlottesville, Virginia.
READ MORE: 'Unite the Right' organizer launches legal fund
Fighting broke out earlier this month between right-wing protesters demonstrating against the removal of a Confederate-era statue from Emancipation Park, and counter-demonstrators, resulting in the death of 32-year-old counter-protester Heather Heyer and sparking nationwide outrage.
Read more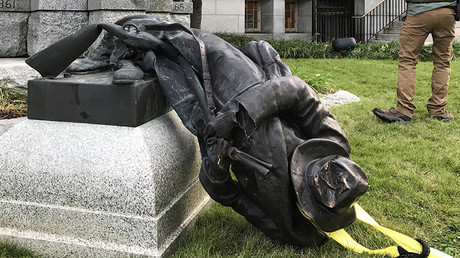 Heyer was killed when a 20-year-old Ohio man allegedly plowed his car through people protesting against white supremacists in Charlottesville. James Alex Fields Jr., named as the driver, was described by a former teacher as having been "infatuated" with Nazi ideology.
According to the Reuters/Ipsos poll, 31 percent of Americans described the rally as "an even mix" of rioting and intimidation by white supremacists and left-wing counter-protesters. Another 28 percent saw white supremacists as the aggressors, and 10 percent mostly blamed the left-wing counter-protesters.
US cities are trying to decide what to do with hundreds of statues and monuments to the slave-holding Confederacy. On Monday, a man was charged with trying to blow up a Confederate monument in Houston, Texas, over the weekend. Andrew Cecil Schneck, 25, tried to drink liquid explosives when he was approached by officers, police said. He was spotted "among the bushes" near the statue of Confederate officer Richard Dowling in Houston's Hermann Park after protesters demanding the removal of the statue clashed with those who wanted to see it remain. Schneck was charged with "attempting to maliciously damage or destroy property receiving federal financial assistance."
READ MORE: Protesters damage & deface Confederate monument in Atlanta (VIDEO)
On Monday, activists in Baltimore, Maryland, took a sledgehammer to one of the oldest monuments to Christopher Columbus in the US, blaming the European explorer for racism, murder, genocide and slavery in the Americas.
Signs that read "Racism: Tear it down" and "The Future is Racial and Economic Justice" were left next to the monument, originally erected in 1792 and moved to its current location in 1964. A plaque reading "Sacred to the memory of Chis Columbus Octob XII MDCC VIIC" was smashed with a hammer. The perpetrators filmed the act and posted the video on the YouTube channel Popular Resistance.
"Christopher Columbus symbolizes the initial invasion of European capitalism into the Western Hemisphere. Columbus initiated a centuries-old wave of terrorism, murder, genocide, rape, slavery, ecological degradation and capitalist exploitation of labor in the Americas," said the narrator, who introduced himself as a resident of Baltimore named 'Tye'.
The 225-year-old monument is said to be the oldest in the country, and possibly in the world, dedicated to Columbus that is still standing.
READ MORE: 'Wave of destruction': Columbus monument vandalized in Baltimore (VIDEO)
Last week, Baltimore City Council voted to remove four Confederate monuments in the city. The move follows protesters pulling down a Confederate memorial in Durham, North Carolina, after a deadly weekend of protests over another statue in Charlottesville, Virginia.
Earlier this month, a monument to American reunification in Atlanta, Georgia, was damaged and splattered with red paint by a group of activists who demanded its removal, citing racially motivated violence in Charlottesville.