'Wave of destruction': Columbus monument vandalized in Baltimore (VIDEO)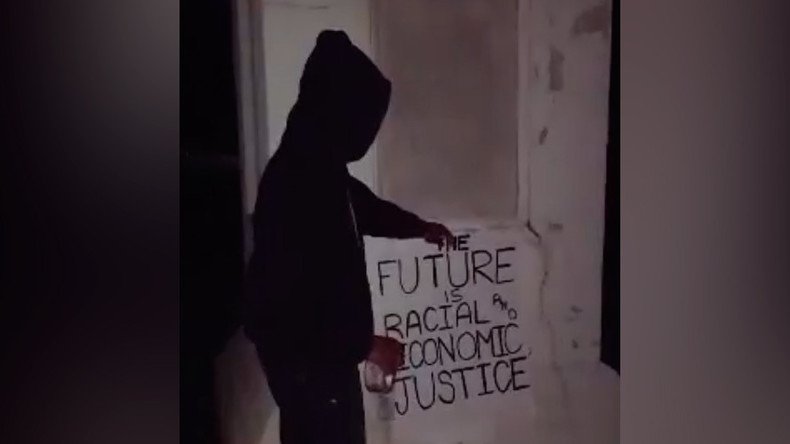 Activists in Baltimore, Maryland took a sledgehammer to one of the oldest monuments to Christopher Columbus in the US, blaming the European explorer for racism, murder, genocide and slavery in the Americas.
Signs that read "Racism: Tear it down" and "The Future is Racial and Economic Justice" were left next to the monument, originally erected in 1792 and moved to its current location in 1964. The plaque that said "Sacred to the memory of Chis Columbus Octob XII MDCC VIIC" was smashed in with a hammer.
The perpetrators filmed the deed and posted the video on the YouTube channel Popular Resistance.
"Christopher Columbus symbolizes the initial invasion of European capitalism into the Western Hemisphere. Columbus initiated a centuries-old wave of terrorism, murder, genocide, rape, slavery, ecological degradation and capitalist exploitation of labor in the Americas," says the narrator who introduced himself as a resident of Baltimore named 'Tye'.
"That Columbian wave of destruction continues on the back of indigenous, African-American and brown people," the narrator continues.
Activists can be seen holding up the two handwritten signs, before pulverizing the engraved tablet at the base of the 44-foot-tall obelisk.
Between the footage of activists attacking the monument are illustrations of Columbus and his men observing dogs attacking the indigenous population, or watching the natives being mutilated.
"Racist monuments to slave owners and murderers have always bothered me. Baltimore's poverty is concentrated in African-American households, and these statues are just an extra slap in the face," the narrator adds. "They were built in the 20th century in response to a movement for African Americans' human dignity. What kind of a culture goes to such lengths to build such hate-filled monuments? What kind of a culture clings to those monuments in 2017?"
The 225-year-old monument is said to be the oldest in the country, and possibly even in the world, dedicated to Columbus that is still standing. The Genoan-born explorer led the first expedition to the Caribbean on behalf of the Spanish crown in 1492, believing he was sailing around the world to India.
There are two other monuments to Columbus in Baltimore, one located at Druid Hill Park, the other at the edge of Little Italy.
"Part of our evolution… requires tearing down monuments to destructive forces and tearing down systems that maintain them," the narrator adds, ending the video with a call to "build a new economy."
Last week, Baltimore removed four monuments to the Confederacy under the cover of night. There has been a renewed push across the US to dismantle monuments dedicated to the losing side in the 1861-65 Civil War, driven by activists who see them as an endorsement of slavery and racism.
What started with Confederate monuments has since expanded to city parks and places named after slave-owners – including US presidents George Washington, Thomas Jefferson and Andrew Jackson.
You can share this story on social media: