Group finds & films experimental Canadian fighter jet model at bottom of Lake Ontario
Published time: 9 Sep, 2017 23:42
Edited time: 10 Sep, 2017 07:32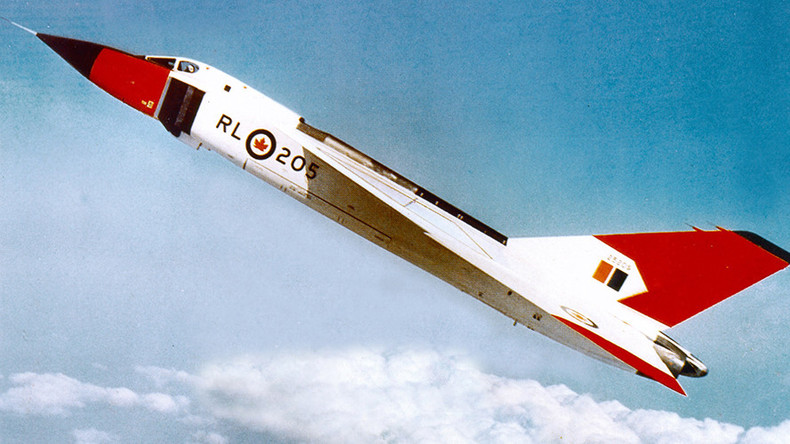 A group of aviation enthusiasts have found a free-flight test model of an iconic Canadian fighter jet, the Avro Arrow, at the bottom of Lake Ontario. They aim to raise several such models, which for decades have been surrounded by controversy and nostalgia.
Members of the OEX Recovery Group Incorporated (OEX), which has been leading the Raise the Arrow project, revealed their discovery, along with underwater images and video from their expedition on the lake, on Friday – and hinted that the water contains even more historical surprises.

"There are more jets out there than originally thought," said expedition leader John Burzynski in a statement.
READ MORE: Japanese jet fighters & US bombers conduct war games over East China Sea

The Avro Arrow models are one-eighth the size of the Royal Canadian Air Force's famed CF-105 Arrow, and were part of the final pre-production flight design test work done on the aircraft. The test program was abruptly cancelled in 1959 and all materials, tools and jets involved in the project were ordered destroyed. The fate of the Arrow jet has been a sore point for many Canadians ever since, and has given rise to speculation, conspiracy theories and docudramas.
READ MORE: Japanese jet fighters & US bombers conduct war games over East China Sea
It's thought that nine three-meter-long Avro Arrow models were strapped to rockets and fired over the lake from Point Petre, near Prince Edward County north-west of Toronto.

Researchers used sonar scans to identify areas of interest, leading the group to post images of a "high-priority target" to its Facebook page Thursday night.
The team then deployed a remotely operated vehicle (ROV) to dive to depths of between 30 and 60 metres and confirm the discovery.
The aircraft were easily identifiable, as the lake's rocky bottom had prevented them from sinking into the mud.

"What fell in the lake basically sits on the bottom of the lake," said Burzynski.

Raise the Arrow is supported by a group of Canadian mining companies set on recovering artifacts from the Arrow project. Any Avro materials will go on display at the Canada Aviation and Space Museum in Ottawa and the National Air Force Museum of Canada in Trenton, Ontario.