Japanese jet fighters & US bombers conduct war games over East China Sea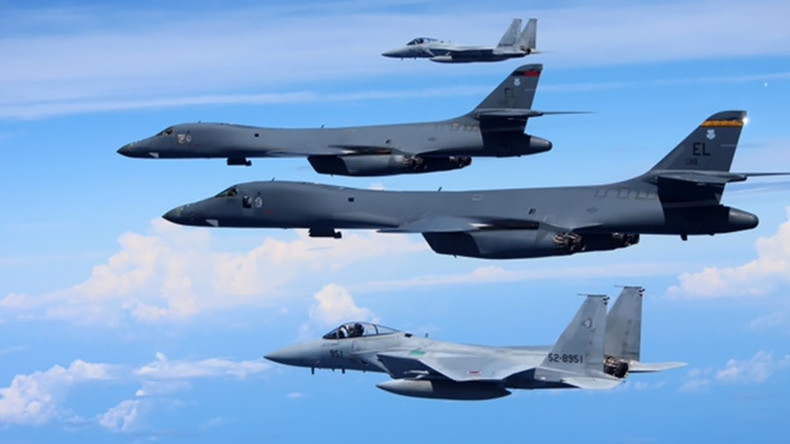 A pair of Japanese F-15 fighter jets conducted a military exercise with a duo of US B1-B bombers in the skies above the East China Sea. The drill comes as Seoul braces for a possible new missile test by North Korea.
The exercise involved two US Air Force B-1B Lancer bombers flying from Andersen Air Force Base on the US Pacific island territory of Guam, joined by two Japanese F-15 jet fighters on Sunday, Japan's Air Self Defense Force (ASDF) reported, as cited by Reuters.
Late last month, Japanese F-15 fighter jets also conducted a military exercise with US B1-B bombers and F-35 stealth fighters in skies south of the Korean Peninsula. The August 31 drill came two days after North Korea launched a ballistic missile over northern Japan.
Japan is on high alert after a series of North Korean missile and nuclear tests, including one which passed over its territory. On Thursday, for the second time in its history, Japan carried out a series of anti-missile drills at a US airbase in the northern Tohoku region, as tensions mount with North Korea's missile and nuclear weapons program.
A crew of 30 set up a Patriot Advanced Capability-3 (PAC-3) missile interceptor system capable of intercepting short- and medium-range missiles at Misawa Air Base, Aomori Prefecture. The aims of the exercise were to boost US-Japanese co-operation, and to ready the military for any potential attack by North Korea.
Japan carried out missile interception drills for the first time at the end of August at the Iwakuni Air Base in Yamaguchi and the Yokota Air Base in western Tokyo, only hours before a North Korean missile passed over the northern island of Hokkaido.
As tensions continue to flare up on the Korean Peninsula, the US has been deploying more military equipment into South Korea, such as the Terminal High Altitude Area Defense (THAAD) anti-ballistic missile defense system, which has met with protests from both Russia and China, as well as the local population.
On Thursday, clashes broke out between police and protesters in the South Korean province of Gyeongsangbuk, where locals fear the THAAD deployment will make them a target of the North Korean government.
The US has also been holding joint military drills with South Korea. The annual Ulchi-Freedom Guardian exercises, conducted in late August, involved 40,000 American and South Korean troops in land, air, and sea drills. Pyongyang has repeatedly described the annual US-South Korea military drills as the "most explicit expression of hostility," voicing fears that the war games may "evolve into actual fighting."
Russia has noted that through these military drills, the United States engaged in activity on the peninsula that could be considered provocative.
"The United States and South Korea are provoking Pyongyang by flexing military muscle and making repeated threats of intervention and pre-emptive strikes," Leonid Slutsky, head of the State Duma foreign affairs committee, told reporters following North Korea's latest nuclear test last week.
To help end the crisis, Russia and China have proposed a double-freeze plan, which would see Pyongyang suspend its nuclear and ballistic missile tests in exchange for a halt in joint US-South Korea military drills. The US has rejected this proposal, saying that it has every right to conduct exercises with its ally, South Korea. The US has also demanded more sanctions, calling on Russia to stop shipping oil to North Korea.
However, Moscow has rejected these calls, stressing that dialogue, not sanctions, is the only solution to the crisis.
"There are possibilities to achieve the settlement of Pyongyang's problem by diplomatic means. This is possible and must be done," Russian President Vladimir Putin said at the Eastern Economic Forum (EEF) in Vladivostok on Thursday.
Putin believes that Pyongyang perceives nuclear weapons as its only protection, and will not abandon them.
"They [in North Korea] view the possession of atomic weapons and missile technology as their only means of protection. Do you think they'll give it up now?"