Neo-Confederates' plan for unpermitted rally has Richmond police 'preparing for the unknown'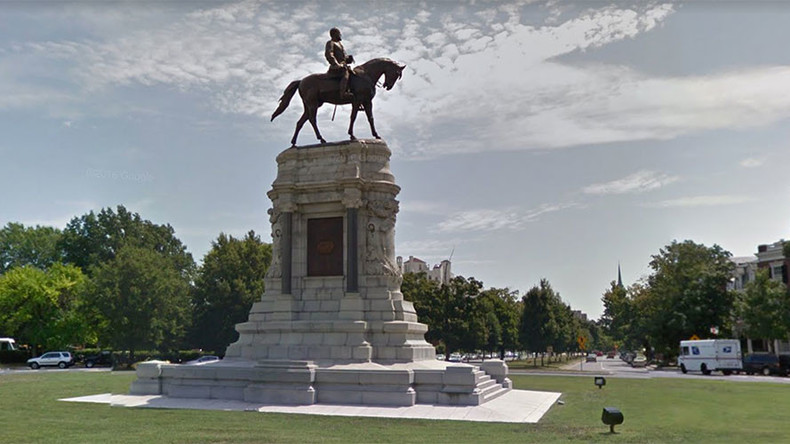 The Richmond Police Department is coping with "a lot of anxiety," as a neo-Confederate group promises to rally at a statue of Confederate General Robert E Lee, despite the governor issuing a ban on all demonstrations at the monument.
Read more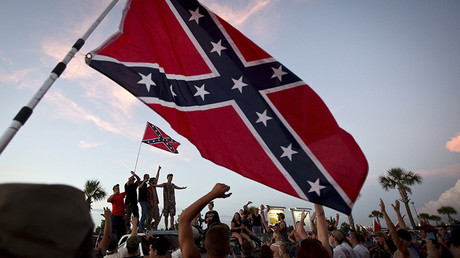 The New Confederate States of America (CSA II) announced that their rally planned for September 16 to 'protect' the General Robert E Lee monument in Virginia from being taken down, "will still be going on" despite the governor's order.
On August 18, Virginia Governor Terry McAuliffe (D) signed an executive order temporarily suspending the issuance of permits for protests and barring any demonstrations at the Lee monument.
The ban was ordered after an alt-right rally in Charlottesville turned deadly last month when a man drove his car into a group of counter-protesters, leaving 19 injured and one woman dead.
McAuliffe called the "Unite the Right" rally "an act of domestic terrorism," adding that the ban was put in place to ensure "nothing like what occurred in Charlottesville happens again."
"Let me be clear, this executive order has nothing to do with infringing upon first amendment rights," the governor said. "This is a temporary suspension, issued with the singular purpose of creating failsafe regulations to preserve the health and well-being of our citizens."
While other groups canceled their events after the ban was ordered, the CSA II issued an emphatic all-caps statement that said that the rally "WILL STILL BE GOING ON."
"This event is not canceled," the group's organizers wrote. "We will be standing up to protect the General Robert E Lee monument from being taken down or destroyed."
Richmond Councilman Michael Jones (9th District) is expected to introduce a resolution to remove certain monuments during the next meeting on September 11, according to the Richmond Times-Dispatch.
"I think the city of Richmond needs to lead on this," Jones said. "You look at all these other localities that are making a moral stand and at some point in time, Richmond was going to have to weigh in on this."
The Tennessee-based Confederate group, which scheduled their event five days after the rally in Charlottesville, emphasized their rally is about heritage, not hate, adding that "any Hate will NOT be stood for on our side whatsoever."
"No Racist Groups Will Be Allowed In Our Rally Area!!!" the group's organizers stated.
A counter-protest has been scheduled by the Community of Richmond Virginia (CORVA), a non-profit organization that claims they are protecting their city from the "the same violent extremists that were at Charlottesville."
CSA II has asked participants to meet at a separate location before the rally to go over the rules that will be put in place by the Richmond Police Department. They claim the police are aware of the rally and are "working on providing security for this event."
Thomas Crompton, the group's leader, responded to a Facebook user asking if the event was canceled, saying that he has talked with the Richmond PD "in length" and, together, they are working to ensure the rally is not a repeat of what happened in Charlottesville.
"Our hearts were heavy that that had happened and we will not have a repeat episode of it whatsoever," Crompton wrote on Facebook.
On Friday, Richmond Police Chief Alfred Durham told WWBT they are preparing for the event, but said there is "a lot of anxiety because of the fear of the unknown."
"We have not received any permits so we really don't know who's coming. So that's what we're preparing for the unknown," Durham.said.
Richmond police are also investigating vandalism at the Slavery Reconciliation Statue, one of three identical statues in cities that were prominent in the slave trade. The statues "symbolize a commitment to new relationships based on honesty and forgiveness," according to Richmond's tourism website.
The statue was found with graffiti on the base and a sticker that said: "Confederate States Forever," according to State Delegate Delores McQuinn (D-Richmond)
"It's so unfortunate because this statue (is) symbolic of where we need to be moving as a country, and that's reconciling our differences," McQuinn told WWBT.
Police are also investigating an incident on Thursday after an artist group known as "Indecline" hung eight effigies of clowns dressed in Ku Klux Klan robes from a tree.
The group said they installed the installation, dubbed "Ku Klux Klowns," as a "protest of the White Nationalist uprising in the United States," according to a press release obtained by the Richmond Times-Dispatch.One of the clowns had a sign hung around its neck that read: "If attacked by a mob of clowns, go for the juggler — INDECLINE."
The group also posted a video showing four masked men dressed in black clothing hanging the clowns from nooses in Bryan Park. Police closed the park for several hours Thursday morning.