Confederate flag maker 'overwhelmed' by orders as tensions flare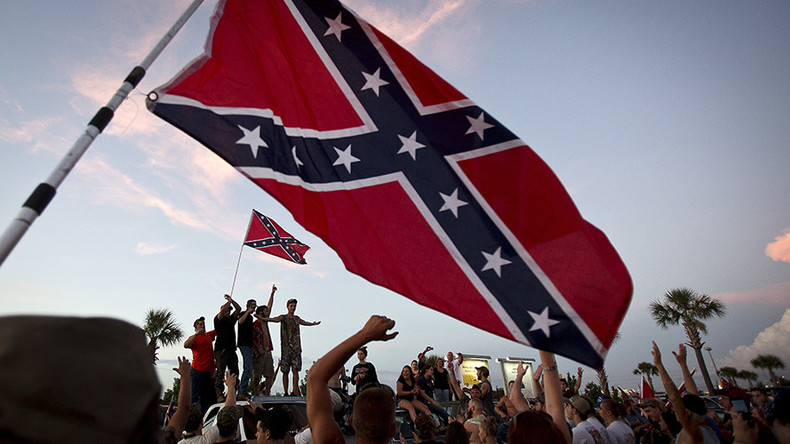 Amid tense debate on the future of Confederate statues around the US, business appears to be booming for a major Confederate flag manufacturer in Huntsville, Alabama.
Alabama Flag & Banner – described as one of the last remaining confederate flag makers – is benefitting from a surge in demand from US nationalists, according to CBS News.
Tensions around the public display of images associated with the Confederacy, the 11 secessionist states that fought to maintain slave society, have increased recently.
READ MORE: 'Tear racist statues down': Activists target Confederate monuments across US
Concern over the flying of the Confederate flag was initially raised in 2015, following the racially-motivated African Methodist church massacre carried out by Dylann Roof in South Carolina.
Outrage against the symbol resulted in the flag being removed from the South Carolina statehouse grounds.
A rejection of the Southern flag and other Confederate reminders has continued into Donald Trump's presidency, with some arguing it should be paraded because it is part of US heritage.
READ MORE: Shop owner attacked over Confederate flag he's fighting to remove
Fallout from clashes between white nationalists and counter-protesters on August 12 in Charlottesville, Virginia heightened hostilities around Confederate symbols – specifically whether statues to Civil War era figures such as General Robert E. Lee have a place in the public domain.
It has resulted in certain statues being defaced and one group of activists tearing down a Confederate soldier statue in Durham, North Carolina, to the dismay of President Trump.
Sad to see the history and culture of our great country being ripped apart with the removal of our beautiful statues and monuments. You.....

— Donald J. Trump (@realDonaldTrump) August 17, 2017
But while racial and political tensions continue to bubble, the disharmony appears to have done the coffers of Alabama Flag & Banner no harm.
The company, which boasts its involvement in raising the highest flagpole in south-east America, states that it has recently received an "overwhelming amount of orders."
Due to the surge, the firm has had to reroute orders to a different website, and they warn customers that Confederate flags could take up to three weeks to be delivered.
Alabama Flag & Banner owner Belinda Kennedy told RT.com that flag sales have been buoyed by those opposing the removal of Confederate monuments, saying that sales are coming from "all 50 states and several different countries."
"My seamstresses do not ordinarily work weekends but they are working now [Saturday]," Kennedy said. "The comments I hear from customers coming into our store, over the phone or email are [that they] buy flags in order to offset the small minority who are demanding the removal of monuments."
Kennedy also said people calling for the removal of monuments are "trying to revise history."
You can share this story on social media: