'The World According to Jesse': RT America launches new Ventura show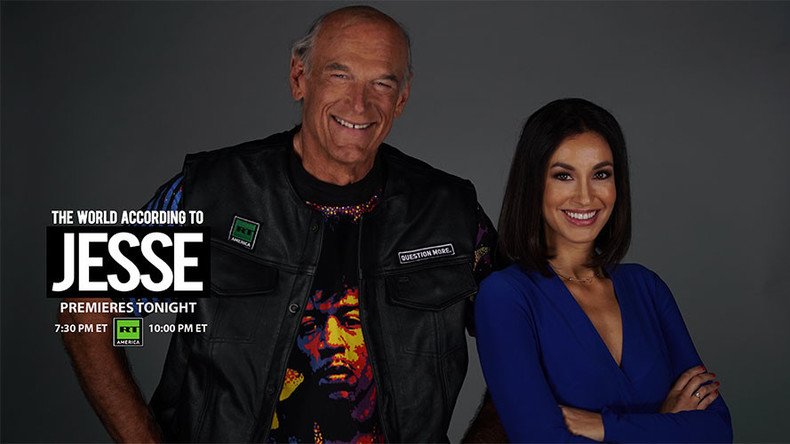 Former Minnesota governor and pro-wrestler Jesse Ventura is back at RT America with his new show 'The World According to Jesse.' The weekly show will be bringing Ventura's distinctive take on current news.
'The World According to Jesse' is a variety news show that will tackle today's biggest political stories, as well as deeper issues such as "government hypocrisy and corporate deception" through a mix of thought-provoking interviews and on-the-ground reporting. Viewers can expect Ventura to be just as bold and uncensored in his approach as he has been all his life.
"What you will hear from me is opinions, not agendas," says Ventura. "I look forward to holding our government accountable. I will be exercising my First Amendment rights with no filters."
The premiere episode, airing September 8 at 7:30 PM Eastern time (2330 GMT), will feature Ventura alongside RT's own evening news host and legendary journalist Ed Schultz, and will address issues ranging from broad mainstream media biases to complicated Russia-US relations.
The episode will also be shown live on RT America's Facebook page.
During RT America's 2016 Election coverage, Ventura contributed pointed commentary about third-party candidates – something he was familiar with from personal experience.
In 1998, Jesse "The Body" Ventura transitioned from a professional wrestler into a surprise political success when he won a shocking victory as a third-party candidate to become governor of Minnesota. Since then, his trademark has been his ability to "speak for the common man."
'The World According to Jesse' will air Fridays, with repeats on weekends.
RT America channel airs from Washington, DC and is part of RT, the global television news network. Dedicated to the top US stories and most pressing issues, it is the proud home of "Politicking with Larry King", "News with Ed Schultz", Emmy-nominated "On Contact with Chris Hedges", "America's Lawyer with Mike Papantonio", "The Big Picture with Thom Hartmann", award-winning financial show "Boom Bust" with Lindsay France, and "Watching The Hawks" with Tyrel Ventura, Tabetha Wallace and Sean Stone.
In 2017 alone, RT America took home three awards at the prestigious New York Festivals, as well as eight Telly Awards.
RT broadcasts 24/7 in English, Arabic and Spanish from its studios in Moscow, Washington, DC and London. It has a weekly TV audience of 70 million viewers in 38 countries, with an audience of 8 million in the United States according to top audience research firm Ipsos. It is also the most watched TV news network on YouTube, with more than 5 billion views.
RT is the winner of the Monte Carlo TV Festival Award for Best 24-hr Broadcast, and a five-time Emmy finalist.
You can share this story on social media: