Hurricane blame: Harvey & Irma 'punishment' for Trump & gay mayor, internet says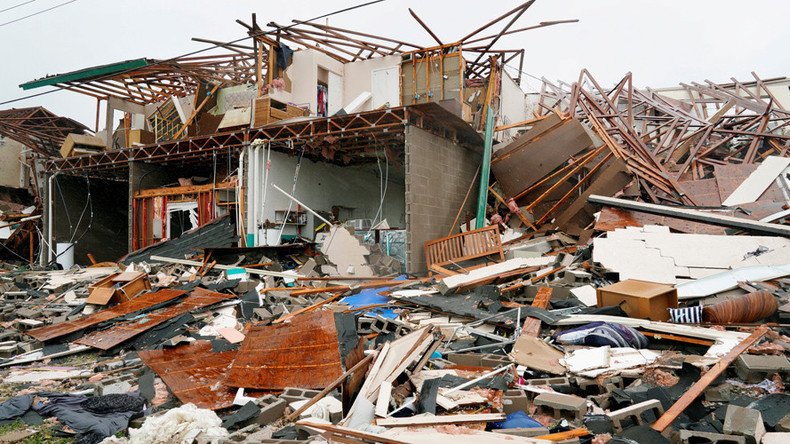 As the US prepares for its second major hurricane in a matter of weeks, the internet is struggling to explain the natural disasters. The outlandish explanations range from storms being punishment for President Trump to Texas being the "worst state."
Hurricane Irma has already made its mark on the Caribbean, leaving at least 19 dead. It's now preparing to hit Florida over the weekend, just two weeks after Hurricane Harvey left parts of Texas, particularly Houston, under historic-level floodwaters.
READ MORE: Hurricane Irma will devastate the US – FEMA
Some have blamed climate change for the back-to-back hurricanes, while others say it's just Mother Nature in a bad mood. However, there are those who say the natural disasters are actually "punishment."
The first such claim to make headlines occurred in late August, when Kenneth Storey, an assistant sociology professor at the University of Tampa, took to Twitter to suggest that Texans deserved Hurricane Harvey because they voted for Donald Trump in the 2016 presidential election.
"I don't believe in instant karma but this kinda feels like it for Texas. Hopefully this will help them realize the GOP doesn't care about them," said the tweet, which was later deleted.
Storey – who was fired for his sentiments – isn't the only person who believes Texas deserved the wrath of Harvey, which left at least 70 people dead in the state.
Harris County, where Houston is located, overwhelmingly voted for Hillary Clinton.
"Y'all know this Hurricane Harvey [is] punishment for Texas being the worst f**king state in America, right," another person wrote on Twitter.
y'all know this hurricane harvey punishment for texas being the worst fucking state in america right

— bitch ass (@dogmom1996) August 26, 2017
Even actress Jennifer Lawrence chimed in, also suggesting that Mother Nature was hitting the US hard because Donald Trump was elected president.
"You know you're watching these hurricanes now, and it's really hard especially while promoting this movie, not to feel Mother Nature's rage and wrath," she told Britain's Channel 4, after noting that the result of the presidential election was "startling."
However, some conservatives believe Harvey hit Texas because of Houston's former mayor, Annise Parker, who was openly gay. Houston's current mayor, Sylvester Turner, is African-American.
One of those people is Minister Kevin Swanson, who hosts an online radio show titled 'Generations.'
According to Swanson, Houston has sinned because it voted for a "very, very aggressively pro-homosexual mayor."
"Jesus sends the message home, unless Americans repent, unless Houston repents, unless New Orleans repents, they will all likewise perish," he told his radio show. "That is the message that the Lord Jesus Christ is sending home right now to America."
His comments came just days after Christian radio personality Rick Wiles also blamed Houston for its progressive stance on issues including homosexuality.
"Here's a city that has boasted of its LGBT devotion, its affinity for the sexual perversion movement in America. They're underwater," he said.
Former child star Kirk Cameron, known for his conservative Christian views, made a video in which he cited scripture as saying that God sends weather for one of two reasons – "for punishment, or to water his land and demonstrate his faithful love."
He said the hurricanes are a "spectacular display of God's immense power. And when he puts his power on display, it's never without reason. There's a purpose... it's not random."
While Cameron did not specifically mention any reasons the hurricanes may be hitting the US, he said weather is "set to cause us to respond to God in humility, awe, and repentance."
Meanwhile, conservative commentator Ann Coulter, who is no stranger to controversy, said that while she doesn't believe Harvey was punishment for Houston's (former) gay mayor, that explanation is "more credible than climate change."
I don't believe Hurricane Harvey is God's punishment for Houston electing a lesbian mayor. But that is more credible than "climate change." https://t.co/K7d7mopY5Q

— Ann Coulter (@AnnCoulter) August 29, 2017
In response, one person tweeted to Coulter that Harvey is actually God's punishment for passing laws against abortion and homosexuals.
"God loves all people [and you] shouldn't judge others," he wrote.
Hurricane Harvey is God's punishment for passing laws against abortion and homosexuals. God loves all people & u shouldn't judge others.

— Mike Schiller (@streak69) August 29, 2017
Another person said Harvey was the result of Houston's acceptance of millionaire pastor Joel Osteen, whose 'megachurch' is located in the city.
Harvey is God's punishment for Houston's acceptance of Joel Osteen.

— 8 Rusty Staples (@8rustystaples) August 29, 2017
Osteen faced backlash during Harvey for not opening his massive church's doors as a shelter, claiming it was flooded when photos on social media appeared to show otherwise.
Meanwhile, others have looked outside of Texas and focused more on national reasons why Harvey and Irma might be pounding the US.
"If I wasn't an atheist, I would think that Harvey and Irma are a punishment from a superior entity for withdrawing from the Paris agreement," one Twitter user wrote.
If I wasn't an atheist, I would think that Harvey and Irma are a punishment from a superior entity for withdrawing from the Paris agreement.

— Pere Miro (@PereMiroChem) September 8, 2017
Another person said the hurricanes were punishment for Trump's controversial travel ban for citizens of mainly Muslim countries.
Notice how hurricanes never form in the Persian Gulf or Arabian Sea? Harvey Irma Jose etc are punishment for the Muslim ban

— WellDressdSerialKilR (@Fuggitwatevr) September 8, 2017
American's general treatment of immigrants must be to blame, according to another.
Did you guys ever think that maybe the hurricanes are punishment for poor treatment of immigrants? Irma and Jose are not laughing

— Ty Tomasta (@Ty_On_AIR) September 6, 2017
One person claimed Harvey was due to the recent events in Charlottesville, Virginia – the scene of a white nationalist rally in August.
Hurricane Harvey is punishment from the Lord bcuz of what took place in charlottesville

— andre hollins (@drethegemini) August 29, 2017
Back in 2006, Pastor John Hagee said that Hurricane Katrina, which had devastated the city of New Orleans the year prior, was "the judgment of God."
"New Orleans had a level of sin that was offensive to God," Hagee said, because "there was to be a homosexual parade there on the Monday that the Katrina came."
You can share this story on social media: