Police kill tiger roaming city streets near Atlanta, Georgia (GRAPHIC PHOTOS)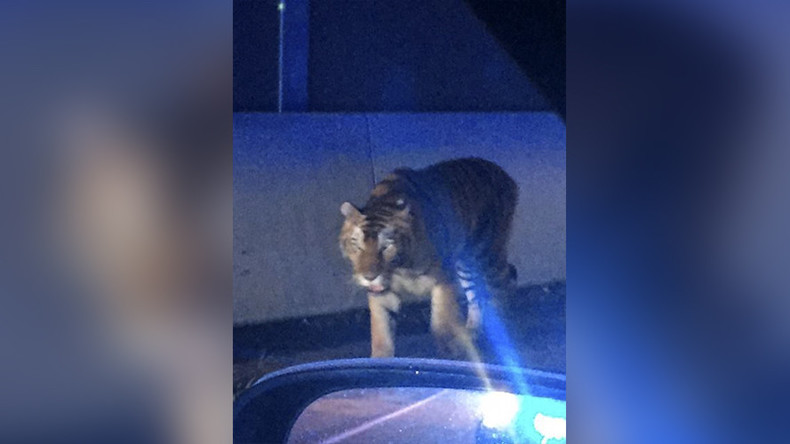 The night shift in Stockbridge, Georgia received several calls from motorists reporting an adult tiger roaming the streets near the I-75 interstate in the early hours of Wednesday.
Police in Henry County, about 20 miles (32 km) southeast of Atlanta, quickly located the tiger and set up a security perimeter at a safe distance around the big cat while Animal Control officers were en route. Authorities were forced to temporarily close down four lanes of the highway, reports ABC 7.
The tiger then veered off the highway and headed toward a nearby residential community. It vaulted a garden fence and began attacking the homeowners' terrified dachshund.
"Unfortunately, it jumped a fence and went after a dog back behind one of the residences here. And the officers had to use some force to put the tiger down," Henry County Police Captain Joey Smith said, as cited by The Atlanta Journal Constitution.
The house where the tiger was shot is "in close proximity to a school bus route in a densely populated area," and "was large enough to be of great concern to us," Smith added.
SENSITIVE PICTURES: Tiger shot, killed by police as it attacked little dog in Henry Co backyard - now, work to find out WHERE it came from pic.twitter.com/PDAH4K8QgV

— Kaitlyn Pratt Fox 5 (@Fox5Kaitlyn) September 6, 2017
The city zoo and local wildlife sanctuaries have confirmed the tiger was not one of theirs.
Both the Henry County Police and Animal Control have launched an investigation to ascertain where the animal came from. They have asked for the public's help in identifying the owner of the tiger.