US disaster relief fund running out of cash over Hurricane Harvey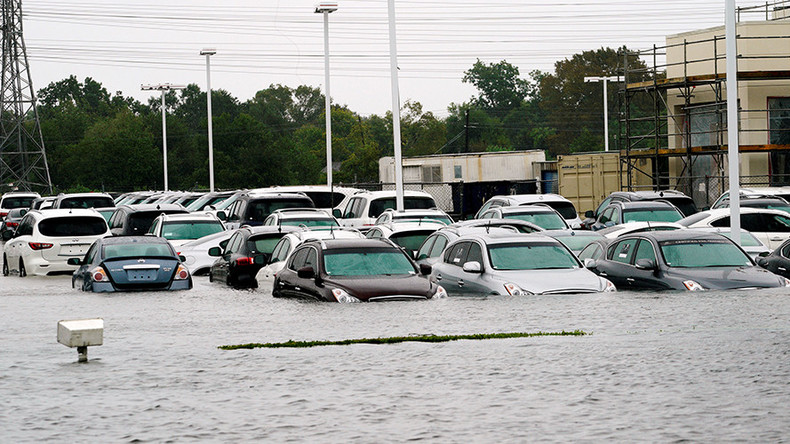 The Federal Emergency Management Agency (FEMA) is running out of money from its billion dollar relief fund contending with the aftermath of Hurricane Harvey along the coast of Texas. Meanwhile, Hurricane Irma is expected to hit Florida this weekend.
Of the $1.01 billion in FEMA's disaster relief fund, only $541 million was "immediately available" for assisting those affected by Harvey, a FEMA spokeswoman told Bloomberg on condition of anonymity.
Another $472 million in the fund is being put towards preparation for Hurricane Irma, which is expected to hit Puerto Rico and Florida in the coming days, as well as the widespread wildfires currently raging in California.
READ MORE: House passes $7.9bn Hurricane Harvey aid package
The agency is expected to run out of money by Friday, and pressure is mounting on Congress to provide more funding this week. The Trump administration has asked for almost $8 billion.
On Wednesday, the House of Representatives approved a $7.85 billion aid package for Harvey victims with an overwhelming 419-3 vote, reported The Hill.
If passed by the Senate, the aid package would provide $7.4 billion to FEMA's disaster relief fund, and $450 million for the Small Business Administration's disaster loan program.
Harvey first made landfall on the coast of Texas on August 25, as a Category 4 hurricane. It dumped 51 inches of rain on Houston and had claimed the lives of more than 50 people as of Saturday, according to the Houston Chronicle.
More than 500,000 people have applied for federal aid in the aftermath of the hurricane. FEMA has so far approved payments of $114.7 million to a total of 161,000 people. About $33.6 million went for housing assistance, such as paying rent for displaced residents, and $81 million to help replace personal property, pay for transportation, and provide medical and dental assistance.
Houston Mayor Sylvester Turner said he also asked for federal funds to assist in the collection and disposal of storm debris, which he estimated could cost up to $300 million.
The financial toll of the storm continues to mount, with some recent estimates putting it at $190 billion, which would make it the costliest natural disaster in US history.
Hurricane Irma, a category 5 storm bearing down on Florida, is said to be the most powerful Atlantic Ocean hurricane in recorded history. It is currently barreling through the Caribbean with heavy rains and 185 mph winds, leaving people on the Virgin Islands, Puerto Rico and Barbuda without electricity. Irma is expected to make landfall in south Florida on Sunday.
Hurricane season will hit its peak in four days, and runs until November 30.